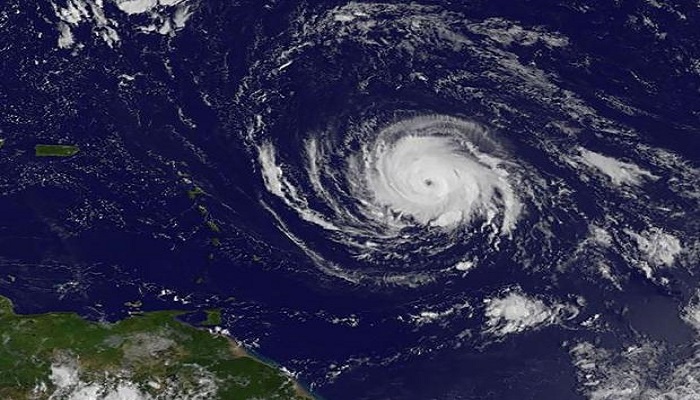 As Irma swirl towards The island of Barbuda, British tourists are being brought back from the Caribbean as the most powerful Atlantic Ocean hurricane in recorded history began to batter the region.
The island was the first to bear the brunt of Irma, a Category 5 storm packing winds of 185mph, and it was expected to sweep through the northern Leeward Islands, east of Puerto Rico. It was then forecast to make landfall in Florida on Saturday.
Irma was set to strike the popular holiday destinations of Saint Martin and Saint-Barthelemy, with a warning of 12-metre (39-foot) swells and extremely violent floods along the shore.
The storm is expected to bring torrential rains, with 200-400 millimetres (8-16 inches) forecast. Irma was continuing to strengthen, with gusts reaching 224mph near the northern Lesser Antilles.
At 8 pm. EDT (1am UK time), Irma was about 85 miles (140 km) east of Antigua in the eastern Caribbean and moving west at 15 miles per hour (24 kph).
President Donald Trump on Tuesday approved pre-landfall emergency declarations for Florida and the American territories of Puerto Rico and the U.S. Virgin Islands, mobilizing federal disaster relief efforts in all three jurisdictions ahead of Irma's arrival, the White House said.
Thousands of travelers had their holiday plans thrown into chaos as airlines were forced to ground or divert flights. British Airways sent an empty aircraft to bring customers back early – the full flight of 326 passengers touched down in the UK on Tuesday evening.
The UK Foreign Office (FO) has advised Britons in the hurricane's path to monitor its website and follow any advice issued by local officials as the historic storm progresses through the region. Experts warned the storm could dump up to 10 inches of rain, cause landslides and flash floods and generate waves of up to 23ft.
Puerto Rico Gov. Ricardo Rossello said: "The decisions that we make in the next couple of hours can make the difference between life and death. This is an extremely dangerous storm."
Evan Myers, chief operating officer of AccuWeather, said: "This hurricane has the potential to be a major event for the East Coast. It also has the potential to significantly strain governmental resources occurring so quickly on the heels of Hurricane Harvey."