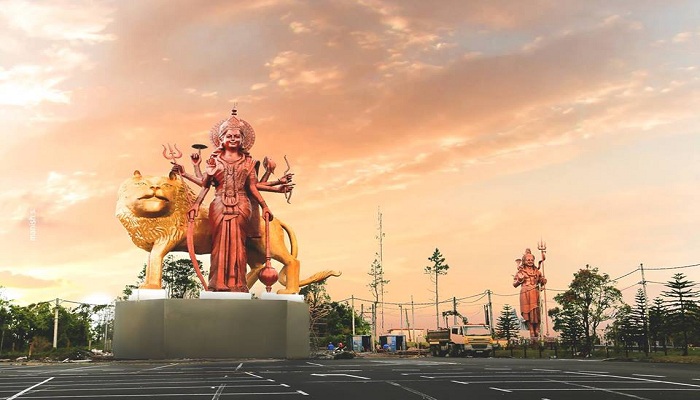 The ceremony of consecration of the largest statue of the Hindu goddess Durga (108 feet, 33 meters high) in the world will be held on September 30 and October 1 in Grand Bassin.
This was announced yesterday by the Mangal Mahadev Shakti Swaroopa Association (MMSSA), whose President is Anil Bachoo.
"The largest statue in the world of Durga is now in Mauritius. Under construction since 2011, this jewel of Indian art and architecture will be unveiled to the general public that day. The statue of Durga Maa was erected a few meters from that of Mangal Mahadev, a height of 108 feet, holy figure of Hinduism. It is a symbol and a necessity of Hinduism," said Anil Bachoo.
The consecration ceremony will be supervised by two Indian gurus, specialists in rituals and prayers dedicated to the goddess Durga. Sunday will be devoted to the "Puja", a great rite of offering and invocation to the Durga maa.
Megduth Chumroo, the association's secretary, explained that the "Durga Puja" was carefully prepared after several weeks of consultations with the Indian gurus who studied the stars and sacred texts of Hinduism. "This ceremony will be an unprecedented event in Mauritius," he said. 
Raviraj Sinna Beechock, the coordinator of the event, gave details for the evening of September 30, which will be marked by a spectacular vigil, with devotional songs, choreography and theatrical performances in Bhojpuri, Hindi, Tamil, Marathi and Telugu, to the glory of the goddess from 18 hours. "We have mobilized the best artists and troops of Mauritius for performances rich in colour, sound and light," he said.
Durga Maa is described as an infallible warrior. The building also includes the lion, symbol of strength and courage. This project required six years of work, conforming to the architectural rules of India, and carried out by Indian and Mauritian workers specialized in the field. It required about 2,000 m3 of concrete and 400 tons of iron.
"No public funds have been injected into this secular project; it was entirely financed by donations, mainly in kind by devotees of Durga Maa," said Anil Bachoo. 
"It is not every day that we have the chance to witness the unveiling of the largest statue of a divinity in the world," Sinna Bheechock said. 
According to the organizers, this building is undoubtedly the largest statue of the Hindu divinity in the world. The previous record was held by Deshpriya Park Durgotsav in Kolkata, India (80 feet high).
Coordinator Bheechock said that he has already written to the Guinness Book of Records and Limca Book of Records for the inscription of this sanctuary.
"The statue of Mangal Mahadev, which was unveiled at Grand-Bassin in 2015, is a must-see on the map of Mauritius and Durga Maa is expected to accompany it soon to magnify the beauty and celebrate the cultural diversity of the island," added Sinna Bheechock.