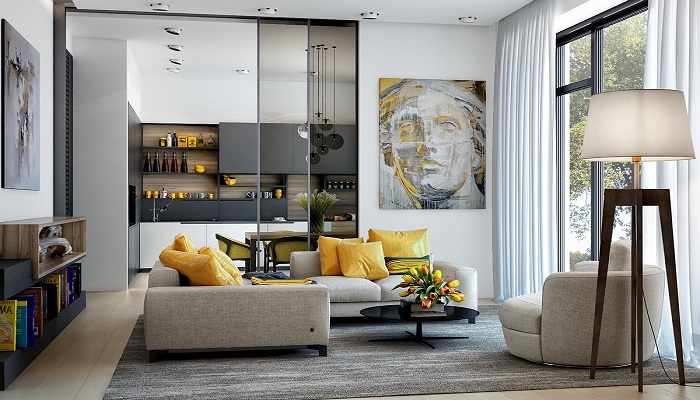 Festivals are an apt time to make new beginnings or even do the same things differently. Changing the furniture at home however can be expensive and tedious.
However, you can completely revamp the look and feel of your home by simply changing the paint colour scheme, replacing curtains, runners and cushion covers. Opt for the bright colours of this season like red, yellow, green and orange. These bright colours enhance the auspiciousness of the festival and give your home a completely new and welcoming look.
Here are some ways in which you can make your home come alive this Diwali:
A burst of colours and textured finishes
Colours play one of the most important roles during festivals as they lighten up the room and reinforce a sense of happiness and excitement. A new coat of paint of the same of different colour will do wonders to your room making your home pleasing to the eye. 'Accent wall' as a concept has also picked up. Home owners looking to refresh the look and feel of their home have caught on to the idea of re-painting just one wall instead of the whole house or room.
Textured walls and designer finishes are the new favourites. This varied texture not only adds more character to the room, but also will make the presence of the Pandal and its background prominent among other things. The uniqueness and the beauty of that single wall will call for all attention and awe towards it.
Adorn the house with flowers
Flowers are traditionally items that are necessary during Indian festivals. They serve as secret ingredients for an occasion and can be used in several ways. Be it a sprinkle or shower of flower petals or in the form of garlands for the idol use.
They serve as ornaments to decorate idols or figurines' as well as helps in keeping the mandir or pandal area fresh with an exotic aroma. 
Decorate the mandap as well as the walls behind with floral garlands.
Lights, lanterns and frills
A pop of colour is a must during festivals to make it all the more exciting to the eye and for your guests. Nowadays lights and lanterns are available in different shapes, sizes and colours which will make your home look colourful and pleasing. The use of stream lights or diyas during festive season plays a crucial role to exuberate light in your home.
If you are advocating eco-friendly decoration ideas this year, going natural with lighting is your best bet. Arrange earthen diyas safely in the Pooja room and at the entrance to your house as well. A large variety of colour frills or ribbons are available as decorations which can be used to decorate the walls and areas around the pandal. Led lights or fairy lights are great decorative accessories which can be molded and placed in any shape.