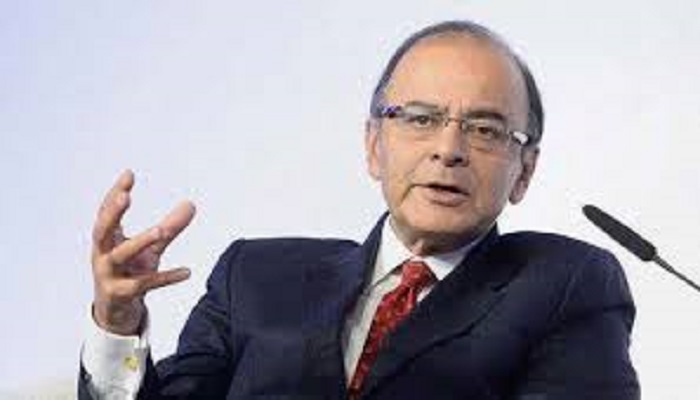 Arun Jaitley the Union Finance Minister on Monday slammed Congress party over the former Prime Minister Manmohan Singh alleged meeting involving a Pakistani delegation. Earlier today Manmohan Singh released a letter in which he expressed anguish at the 'falsehood' spread by PM Narendra Modi over former PM's meeting with Pakistani high commissioner in Delhi and other officials from the neighbouring country.
The statement also asked PM Modi to apologise for what he said in an election rally with regard to a meeting involving the Pakistani delegation. Commenting on that Jaitly said, "it is surprising that Congress party expects the Prime Minister of India to apologise for it. Congress must come out with detailed facts what transpired in that meeting and what was the necessity of having it in present circumstances", added Jaitley.
The Union minister also said that earlier Congress was denying any meeting and today instead of accepting it as a misadventure, the party is blaming those raising the issue. Jaitley also targetted veteran Congress leader Mani Shankar Aiyar of always having taken an inconsistent position. He said, "They maintained a parallel line of dialogue, underplayed Pakistan's role in instigating terrorism in India and continued to engage with them."
Prime Minister Narendra Modi on Sunday quoted media reports claiming some Congress leaders including former PM Manmohan Singh recently "secretly" met Pakistani high commissioner in Delhi. At an election rally in Palanpur PM Modi said, "There were media reports yesterday about a meeting at Mani Shankar Aiyar's house.
It was attended by Pakistan's high commissioner, Pakistan's former foreign minister, India's former vice president, and former prime minister Manmohan Singh." PM Modi also said that the meeting at Aiyar's house continued for almost three hours and the next day Mani Shankar Aiyar said that PM Modi is "neech" (a vile man).