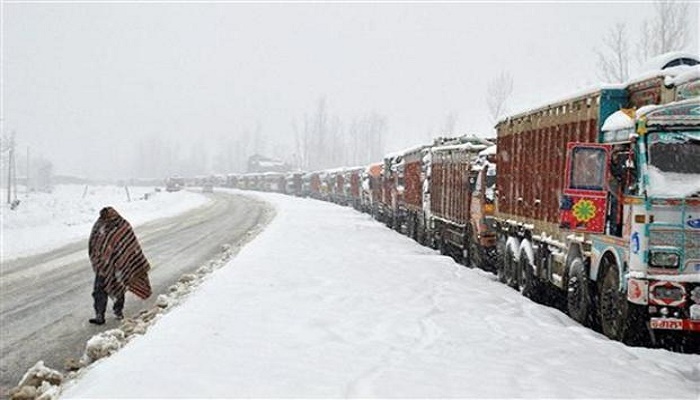 The Jammu-Srinagar National Highway and the Mughal road were closed for traffic for the second consecutive day today due to continuous snowfall and rains.
Traffic department officials said fresh snowfall in Bannihal sector and heavy rains in other parts of the Jammu-Srinagar Highway have led to the closure of the nearly 300-km long highway.
"As a precautionary measure, no traffic will be allowed from either side on the Jammu-Srinagar National Highway today. Travellers are advised to contact our control rooms in Jammu and Srinagar before undertaking the journey," an official of the traffic department said in Jammu.
"The highway is closed for second day today. The highway was closed following heavy snowfall at Jawahar tunnel, Patnitop, and Ramban area bedsides landslides triggered at Pathiyal early today", he said.
The 434-km long Srinagar-Leh Highway that connects the cold desert Ladakh region with the rest of the state was closed for traffic on Sunday. Snowfall has also closed the Mughal Road that connects the Kashmir Valley with Poonch and Rajouri districts of Jammu region.
The highway, passing through the Zojilla Pass, is situated at a height of 3,528 meters above the sea level and remains closed for nearly five months every year.