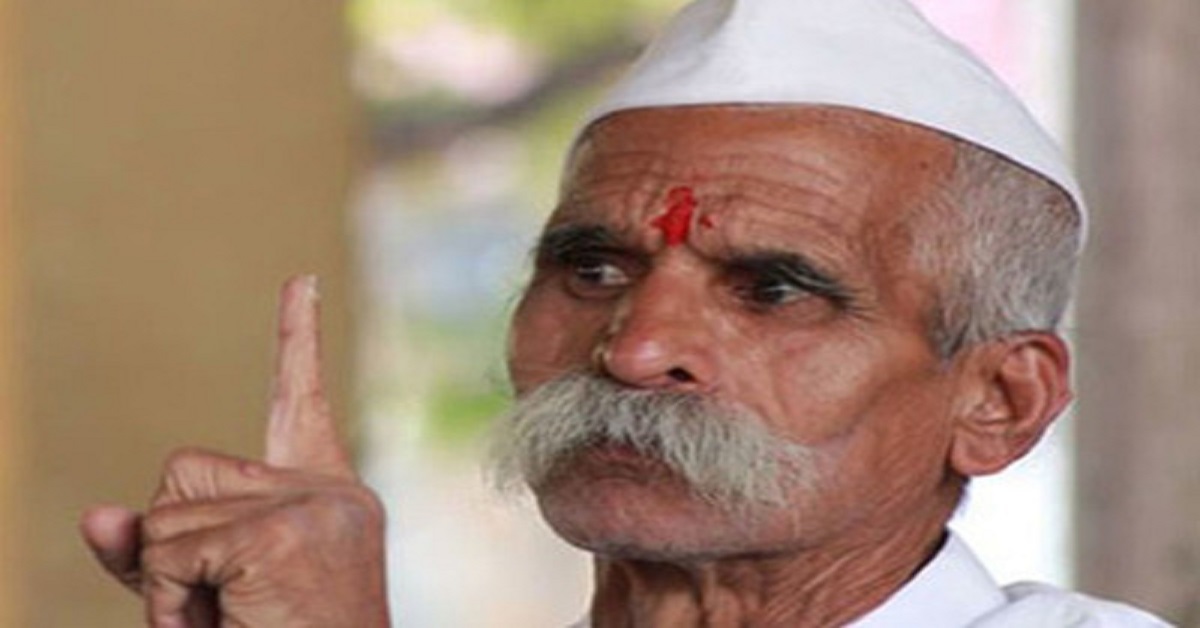 The 200 year anniversary of the battle of Koregaon had turned into a communal clash on the 2nd of January 2018. Who is to be blamed for this?
Controversial right-wing leader Sambhaji Bhide, who is accused of instigating violence against the Dalit community in Pune district, today appealed for a thorough inquiry into the matter.
Bhide (85), who heads Shiv Pratishthan Hindustan, today met with Sangli district collector along with thousands of his supporters and demanded the withdrawal of charges against him. A day after the Bhima Koregaon violence on January 2, Pimpri Police in Pune district filed a case against Bhide and others under SC/ST Prevention of Atrocities Act and under various sections of the IPC including an attempt to murder as one person was killed in the caste clashes.
In his letter to media, Bhide stated that his name was being deliberately linked to the violence in Pune district. "It is a 'banav' (false) that I was present at the riot site in Pune district and was also responsible for it. Dalit leader Prakash Ambedkar has leveled allegations of my involvement in inciting the violence. There should be a thorough investigation into this matter," Bhide stated.
He said perpetrators of the violence should face a stern action. Bhide has issued his letter from the letter pad of his outfit asserting that his work is for awakening the nationalism among Hindus. The Pimpri Police had also booked Pune-based Milind Ekbote of Hindu Ekta Aghadi under the SC/ST Prevention of Atrocities Act and under various sections of the IPC including the attempt to murder.
READ ALSO: 
https://www.eastcoastdaily.in/2018/01/04/maharashtra-communal-clash-protests-spreads-gujarat/
Bharipa Bahujan Mahasangh (BBM) leader Prakash Ambedkar had alleged that Hindu Ekta Aghadi and Shivraj Pratishthan were responsible for the Bhima Koregaon violence in which one person was killed. The violence had occurred at an event to mark the 200th anniversary of the battle of Bhima Koregaon in which the British Army comprising Dalits had defeated the Peshwas.
A large section of Dalits views the historical battle as the defeat of the 'casteism' of upper-caste Peshwas. A case was registered against Ekbote, Bhide, and others, under the SC/ST Prevention of Atrocities Act, Arms Act, 307 (attempt to murder) of IPC and rioting. The duo was booked after one Anita Savle approached the Pimpri police alleging that she and her friend were attacked by a group of people near Vadhu Budruk village adjacent to Bhima Koregaon on Monday. She alleged that the entire attack and arson was orchestrated by Bhide and Ekbote.
Bhide is known among his followers as 'Bhide Guruji'. He is a staunch right-wing Hindu activist and an ardent admirer of Chhatrapati Shivaji Maharaj. He has a sizable following in western Maharashtra. A gold medallist in Chemistry, Bhide has worked as a professor in Pune-based Sir Parshuram College. A former RSS member, Bhide founded the Shiv Pratishthan Hindustan, which is mostly active in Sangli, Satara and Kolhapur districts in western Maharashtra.