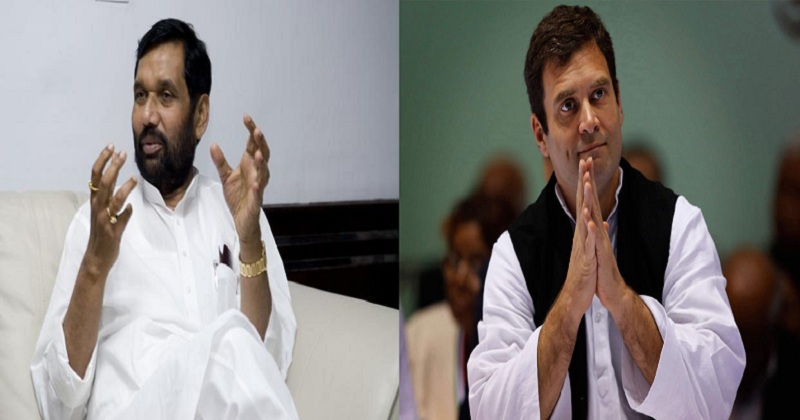 No vacancy in 2019, PM post is already booked : Ram Vilas Paswan to Rahul Gandhi
Union minister Ram Vilas Paswan takes a dig at Rahul Gandhi's remark that he would become prime minister if the Congress emerged as the single largest party in the Lok Sabha polls, saying there was no vacancy for the top post as Narendra Modi would return to power in 2019.
"How can he (Rahul Gandhi) become prime minister in 2019. There is no vacancy. The NDA will return to power with a majority, and Narendra Modi will have his second term as prime minister," he said.
Also Read : India not safe under Narendra Modi led BJP govt ,says Shashi Tharoor
The Lok Janshakti Party or LJP chief was reacting to Mr Gandhi's statement, made at an interaction with the media during the recent campaign for the Karnataka Assembly polls, which has drawn snide remarks from those in the NDA, including PM Modi himself.
"I am sure that in the next general elections, the people of the country will hold the view that Prime Minister Narendra Modi has been performing well and the country has gained respect globally under his leadership, and therefore, the NDA will be given another chance," Mr Paswan, the Union Minister of Consumer Affairs, Food and Public Distribution, asserted.
"Speaking of the opposition, there seem to be so many aspirants for the PM's post. There is TMC chief Mamata Banerjee, TDP supremo Chandrababu Naidu and Chandrashekhar Rao, who heads the TRS. It has also been heard that lobbying is secretly on for Sharad Pawar (NCP founder) as well," he said.