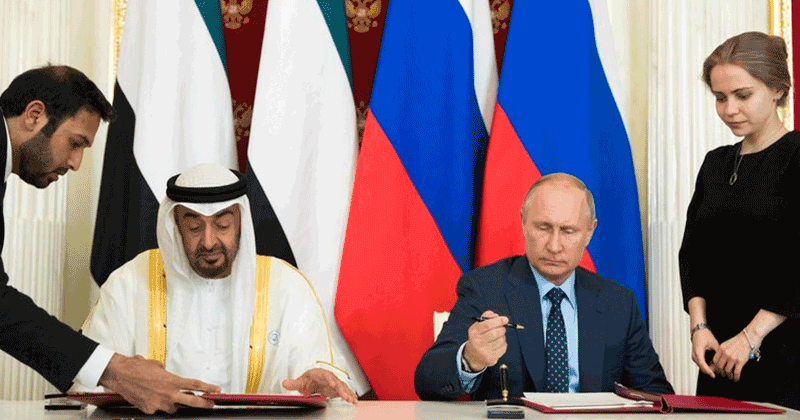 UAE and Russia have decided to join hands to form a new partnership between the 2 nations, making way for new deals.
On Friday, the 2 nations signed a Declaration of Strategic Partnership to cooperate in various sectors such as politics, security, economy and culture, along with cooperation in the humanitarian, scientific, technological and tourist domains.
The cooperation agreement included a way to stabilize energy markets amid a rising trend in oil prices.
The deal, signed by Russian President Vladimir Putin and His Highness Sheikh Mohamed bin Zayed Al Nahyan, Crown Prince of Abu Dhabi and Deputy Supreme Commander of the UAE Armed Forces, calls for both countries to maintain contacts "to ensure balance and stability on the world hydrocarbon market, taking into account the interests of producers and consumers".
The signing took place on the Crown Prince's 2-day visit to Russia.
The declaration is conducive to strengthening dialogues between the two counties on bilateral, regional and international issues of common political concern.
The signing of the declaration translates both countries' determination to develop bilateral relations into a fruitful strategic partnership across all areas of mutual interest.
It features regular consultations between the foreign ministers of both countries to coordinate stances vis-a-vis issues of common concern.
READ ALSO: This is the day likely to be celebrated Eid al Fitr in UAE
Russian President Vladimir Putin had welcomed the Crown Prince, stating that they have been partners for so long and have witnessed the rapid growth of the nation. The signing of the Declaration of Strategic Partnership is "a further step in strengthening our relations," said Putin.
Putin said the two countries' relations have developed significantly at the political, security and economic levels over the past period, with the trade and investment exchanges consistently hitting fresh heights.
"We have a large number of joint projects, joint interests. I do hope and believe that today's visit will contribute to strengthening our mutual relations," Putin said.
The meeting discussed relations between the UAE and Russia in economic, investment, commercial and political fields and the ways to strengthen cooperation, particularly in economic fields. Also discussed were the latest regional and international developments and the situation in the Middle East.
Attending the meeting and the signing were Shaikh Tahnoun Bin Zayed Al Nahyan, National Security Adviser; Dr. Anwar Bin Mohammad Gargash, Minister of State for Foreign Affairs and Khaldoon Khalifa Al Mubarak, Chairman of Abu Dhabi Executive Affairs Authority.
Attending from the Russian side were Sergey Lavrov, Minister of Foreign Affairs; Yuri Ushakov, Advisor to the President of the Russian Federation responsible for international affairs and Denis Manturov, Minister of Industry and Trade.
SEE PHOTOS
Mohamed bin Zayed and Russian President discuss bilateral ties as well as regional and international issues, and sign the declaration of strategic partnership between the two countries. pic.twitter.com/MkTaMmEsbh

— ???? ?? ???? (@MohamedBinZayed) June 1, 2018
???? ?? ???? ??????? ?????? ?????? ?? ????? ????? ???????? ???????? ????? ??????? ????????? ???????? ??? ???????? ???????? ??????? ????? ??????? ???????????? ??? ???????. pic.twitter.com/zuozQkwoTi

— ???? ?? ???? (@MohamedBinZayed) June 1, 2018