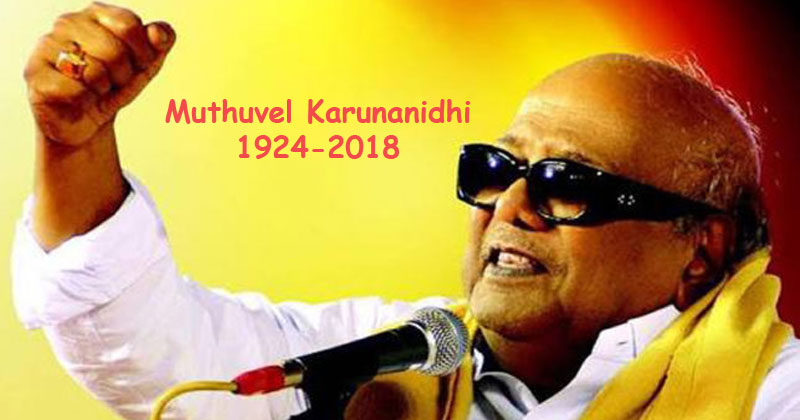 Leaving the Tamil Nadu citizens in tears and sadness, Muthuvel Karunanidhi former 5-time Chief Minister passes away.
The Kauvery Hospital where the DMK supremo had been admitted for the past 2 weeks had issued a news bulletin stating the same.
"With deep anguish, we announce the demise of our beloved Kalaignar M. Karunanidhi at 6.20 pm," a hospital statement said
"Despite the best possible efforts by a team of doctors and nurses to resuscitate him, he failed to respond."
READ ALSO:  Karunanidhi Demise : Educational Institutions To Remain Closed Today
Karunanidhi, 94, was admitted to the hospital on July 28 and his condition worsened on Monday.
Prime Minister Narendra Modi expressed his condolences
Deeply saddened by the passing away of Kalaignar Karunanidhi. He was one of the senior most leaders of India.

We have lost a deep-rooted mass leader, prolific thinker, accomplished writer and a stalwart whose life was devoted to the welfare of the poor and the marginalised. pic.twitter.com/jOZ3BOIZMj

— Narendra Modi (@narendramodi) August 7, 2018
Kalaignar Karunanidhi stood for regional aspirations as well as national progress. He was steadfastly committed to the welfare of Tamils and ensured that Tamil Nadu's voice was effectively heard. pic.twitter.com/l7ypa1HJNC

— Narendra Modi (@narendramodi) August 7, 2018
I have had the opportunity of interacting with Karunanidhi Ji on several occasions. His understanding of policy and emphasis on social welfare stood out. Firmly committed to democratic ideals, his strong opposition to the Emergency will always be remembered. pic.twitter.com/cbMiMPRy7l

— Narendra Modi (@narendramodi) August 7, 2018
My thoughts are with the family and the countless supporters of Karunanidhi Ji in this hour of grief. India and particularly Tamil Nadu will miss him immensely. May his soul rest in peace. pic.twitter.com/7ZZQi9VEkm

— Narendra Modi (@narendramodi) August 7, 2018
Congress President Rahul Gandhi too voiced his condolences
Loved by the Tamilian people, Kalaignar strode the stage of Tamil politics, like a colossus, for over 6 decades. In his passing, India has lost a great son. My condolences to his family as also to the millions of Indians who grieve for their beloved leader tonight.#Karunanidhi

— Rahul Gandhi (@RahulGandhi) August 7, 2018
Delhi Chief Minister Arvind Kejriwal also expressed condolence over the death of Karunanidhi in a tweet.
Feel v sad to hear about the demise of this great leader. May his soul rest in peace. Its a great loss to the nation. https://t.co/fymujgcmMI

— Arvind Kejriwal (@ArvindKejriwal) August 7, 2018