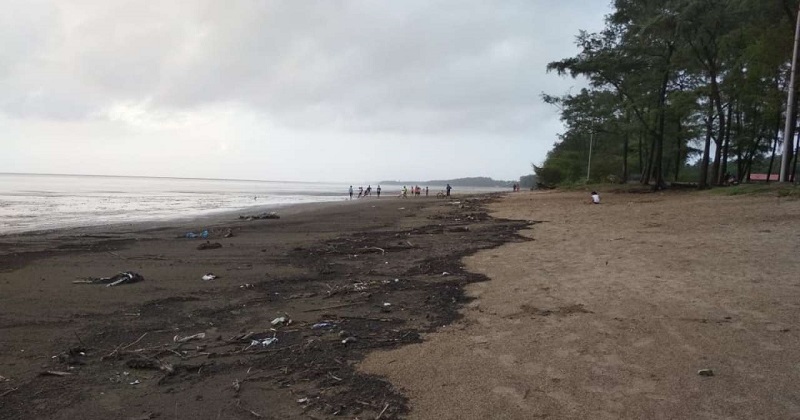 With thick sticky tar balls and oil being washed ashore on several beaches along north coastal Maharashtra, marine experts and activists claimed that this could be the result of a suspected oil spill being that has been reported from southern Gujarat.
While authorities have not confirmed this, several residents along Satpatti, Bordi, Kelva and Dahanu- located along the border of Maharashtra and Gujarat confirmed that there has been a large quantity of oil washed ashore on the beaches. By Thursday evening, there were reports of small quantities of oil being washed ashore Girgaum Chowpatty beach in South Mumbai too.
Pratik Wahurwagh, a resident of Dahanu, said that since the past few days he had witnessed tar balls along Dahanu as well as Kelva beach. "I was at Kelva beach on Wednesday and a major portion of the beach was covered with sticky oil. My shoes kept getting stuck in it. While this is a regular monsoon feature, this time I saw that the quantity of oil washed ashore on the beach was quite high," he said adding that locals were talking about this coming from Gujarat side but he was not aware how true this was.
Sameer Bhalekar a wildlife photographer who is a resident of Bordi too confirmed seeing oil washed ashore the famous Bordi beach. "I was on the beach on Thursday and a large portion of the beach was covered with sticky oil and it seemed to have happened over the last three-four days," he said.
Read More: Last Year, These Airlines Did Something to Celebrate Onam Onboard
MSH Sheikh, Environmental activist and President of Brackish Water Research Centre from Surat, Gujarat said that the oil spill is suspected to have occurred from Bombay High area impacting the coastline of Valsad and several beaches along southern Gujarat. "The oil is seen along the beaches of northern Maharashtra is surely due to this. It's sad that despite this being a regular phenomenon during monsoon causing so much impact on marine biodiversity along the beautiful beaches dotting the Gujarat Maharashtra border these oil spills are termed as 'mystery oil spills' and that is the end of the matter," he said
According to experts, tarball pollution has severe consequences on not only destroying the scenic beauty of the beaches but as it also threatens the marine life like crabs, shrimps and others species.
Oil spills are not uncommon in peninsular India, which saw one of the worst leakages in 2013 when a gas pipeline off the western Mumbai coast spewed at least 1,000 litres of crude oil into the sea. In 2010, two merchant ships collided off the Mumbai coast again, spilling over 800 tonnes of oil and damaging mangroves along the coastline.