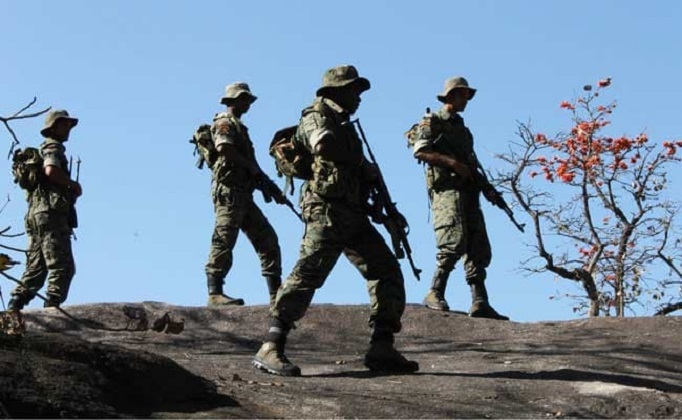 Around 1 lakh security personnel have been deployed in Chhattisgarh for smooth conduct of the first phase of polling on November 12.
The first phase of assembly polls will see voting in 18 seats spread over eight Naxal-affected districts in the state.
Naxal outfits have given calls for a boycott of the election and have also carried out three major attacks in the last fortnight which have claimed the lives of 13 people, including eight security personnel.
The security personnel, including central paramilitary force, have been deployed to ensure peaceful polling in the first phase, Chhattisgarh's Special Director General (Anti-Naxal Operations) D.M. Awasthi told the reporters..
In the last 10 days, over 300 IEDs were recovered from Bastar region and Rajnandgaon district by security forces, he said, adding that all necessary measures had been taken to thwart attempts by Maoists to disrupt the poll process.
A total of 650 companies, including those from paramilitary units like CRPF, BSF, ITBP and around 65,000 personnel from police forces of other states, have been sent by the Centre for the assembly polls, he said.
These units are apart from existing paramilitary personnel and 200 companies of state forces engaged in anti-Naxal operations in Chhattisgarh, the Special DG said.
He informed that around 650 polling booth parties were airlifted by helicopters Saturday to remote areas while other teams would be sent by road Sunday.
Indian Air Force and BSF choppers were pressed into service for the purpose, he said.
He said there are inputs of Naxals planning to plant improvised explosive devices to target security forces and, therefore, a hawkeye was being kept on roads in such areas.
He said forces that had arrived from other states have been advised to avoid using any road unless it had been sanitized by "road opening parties" (ROPs) or had been subject to a de-mining exercise to detect and clear IEDs.
These forces have also been asked to avoid patrolling on foot as Naxals are known to place iron spikes to inflict injuries, Awasthi said.
Police have been asked to maintain a strict vigil on the borders with Madhya Pradesh, Maharashtra, Telangana, Andhra Pradesh and Odisha, he said.
Polling in 10 constituencies Mohla-Manpur, Antagarh, Bhanupratappur, Kanker, Keshkal, Kondagaon, Narayanpur, Dantewada, Bijapur and Konta will start at 7am and end at 3pm.
In the other eight seats Khairgarh, Dongargarh, Rajnandgaon, Dongargaon, Khujji, Bastar, Jagdalpur and Chitrakot the polling time will be 8 am to 5 pm.
On November 8, four civilians and a CISF jawan were killed when Naxals detonated a bus with an improvised explosive device in Chhattisgarh's Dantewada district.
On October 30, three police personnel and a cameraman of national broadcaster Doordarshan were killed in a Maoist attack in Aranpur area of Dantewada.
On October 27, four CRPF personnel, belonging to 168th battalion were killed and two others injured after Maoists blew up their bulletproof bunker vehicle in Awapalli area of Bijapur district.