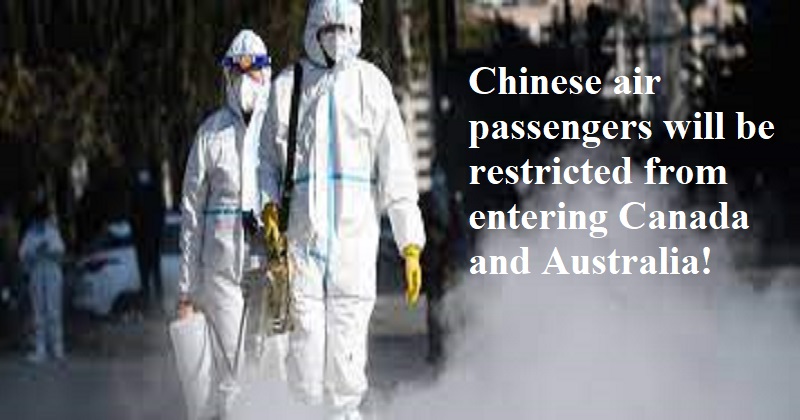 As Covid-19 cases flooded the country as a result of its Zero-Covid regulations, governments from several nations across the world are considering or placing restrictions on travellers from China. Authorities from all around the world have noted a lack of information from China on the Covid cases and new varieties. Tedros Adhanom Ghebreyesus, the director-general of the World Health Organization, urged China to disclose additional information on the Covid problem, including genetic sequencing, illness effect, including hospitalisations, intensive care unit (ICU) admissions, and fatalities.
Covid testing in Canada;
The Canadian government intended to mandate COVID-19 testing before allowing travellers from China, Hong Kong, and Macao to board flights to Canada. All international travellers from the three nations, who are two years old or older, will be subject to the Covid limitations. The Canadian government announced it in a press statement on Saturday, according to AP. It will start on January 5.
In light of a rise in Covid-19 infections in China and the scant epidemiological and viral genomic sequence information currently available on these cases, the Canadian government stated that the new testing norm is being implemented.   A negative Covid-19 test report taken no more than two days before to boarding a flight must be provided to the airline by each passenger.
The government stated in a press statement that the test can be either molecular, like a PCR test, or an antigen test from a telemedicine service, an approved laboratory, or a testing provider, according to AP. The filers who tested positive for Covid more than 10 days but no more than 90 days before their flight must instead present the airline with confirmation of their positive results.
 Australia: Covid test for Chinese visitors;
In light of the fast evolving circumstances, Australia decided that obligatory Covid testing for travellers from China was necessary. According to Australian Health Minister Mark Butler, who was quoted by ANI, Australia has opted to adopt the stance of nations in Asia, North America, and Europe and implement actions in the absence of clear information regarding the Covid situation in China. The Australian newspaper quoted him as stating, 'There is no imminent public health concern to Australians,' according to the chief health officers of the jurisdiction, said ANI.
The article also mentioned that starting on January 5, travellers from China would be required to undergo a pre-departure Covid test. This event occurred right away after Canada joined the list of nations that have made the Covid-19 test required for air travellers arriving from China due to a sharp increase in viral infections after the country pulled back its Zero-Covid standards.
In response to a rise in Covid cases in China, Italy, Spain, and a number of other nations also declared that they would implement preventative measures. Additionally, India mandated the RT-PCR test for all travellers from five nations, including China.