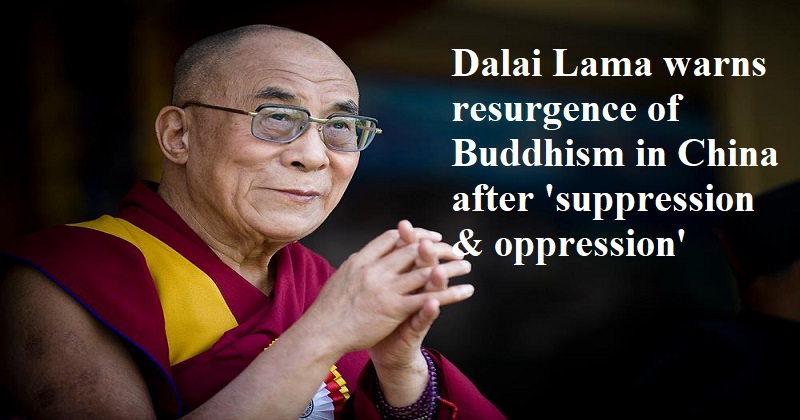 After years of 'suppression and oppression' of the religion and its adherents, the Dalai Lama on Sunday noted the 'increasing interest in Buddhism' in China. After a 'long life offering' ritual, a customary prayer made for the longevity of the 87-year-old Buddhist leader, His Holiness spoke to followers at Bodh Gaya, the location where the Buddha had gained Enlightenment two millennia earlier.
'The Buddhist heritage of Tibet has attracted much of interest from individuals in the West,' the Nobel Peace Prize laureate stated. Buddhism used to be thought of as an Asian religion. But now, its ideas, particularly those related to psychology, have become widely accepted.
This custom is attracting the attention of many scientists. ' So, this is not just for Tibet….but also China. The Tibetan Lama, who had to leave his country in 1959, ten years after Mao Zedong's communist revolution, said that it had a direct impact on China as well since it had historically been a Buddhist nation but had seen significant persecution and oppression of Buddhism and Buddhists. Therefore, China and the rest of the globe may see significant change. I've always believed that a better world is possible', he said.
'Tibet, known as the 'country of snows,' has been the scene of several tragedies. However, it has really turned out to be a blessing. The Tibetan Buddhist tradition is now known to people worldwide', according to the Dalai Lama.
The Dalai Lama, who has since sought asylum in India and relocated to Dharamshala in Himachal Pradesh, which has earned the nickname 'mini Tibet' due to the large number of Tibetan refugees living there, has returned to this international Buddhist pilgrim town in Bihar, which he refers to as the 'Vajrasthan' (the pure land), after a two-year absence. 'It is a coincidence that this event, when prayers are offered for my long life, is taking place on the first day of the Gregorian calendar. This suggests that perhaps bright days are ahead in a manner', the illustrious leader continued.