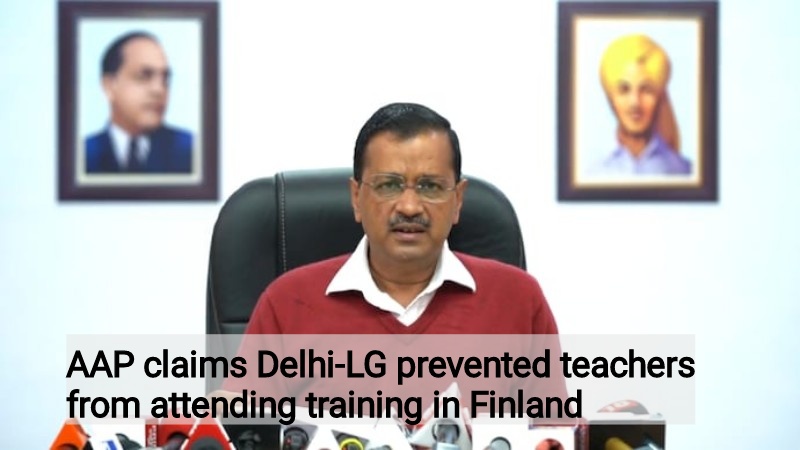 Arvind Kejriwal, the chief minister of Delhi, claimed on Thursday that VK Saxena, the lieutenant governor, was obstructing the process of sending teachers employed by government-run schools abroad for training. CM Kejriwal claimed that the delay in the process was caused by the L-G office's failure to respond. Additionally, he charged L-G with ignoring his letters and clearing the files.
He claimed that after responding to L-G Saxena's objections, the Delhi government sent the first file to him on October 25 and returned it to him on November 10.
'He (L-G Saxena) kept the file for 15 days and raised objections. We cleared his doubts and resent the file. For the past 15 days, the teacher's training file has been pending with the LG Office. He has not cleared it,' the Delhi chief minister alleged.
Arvind Kejriwal stated that L-G Saxena 'is bound to work as per the aide and advice of the elected government' and blamed him for not 'responding' to his communication.
'L-G is not responding to our letters. We have sent him repeated letters, LG sahab ke yahan se jawab hi nahi aata (L-G does not respond),' the Delhi CM added.
36 teachers from AAP-led Punjab government-run schools were scheduled to travel to Singapore for a five-day training session, according to Arvind Kejriwal, but these programmes were 'stalled' because L-G Saxena's approval was lacking.
'Government schools in Punjab are being revamped and teachers are being sent for training to foreign countries. On 4th February, 36 principals of Punjab are going to Singapore for training. 30-30 principals of Delhi were to go abroad for training in December-March. But will not be able to go to training due to LG's ridiculous objection. While on the one side, other states are learning from Delhi, but in Delhi, these programs are being stalled because of ugly politics,' Arvind Kejriwal said.
CM Kejriwal also claimed that the L-G 'stops every file by making absurd objections' despite the central government revoking the Supreme Court's law.
'In 2018, the constitution bench said that no file would go to LG. But the central government went against the constitution and passed the law. Now LG stops every file by making absurd objections. We have gone to SC, we hope SC will cancel this wrong law,' he said.