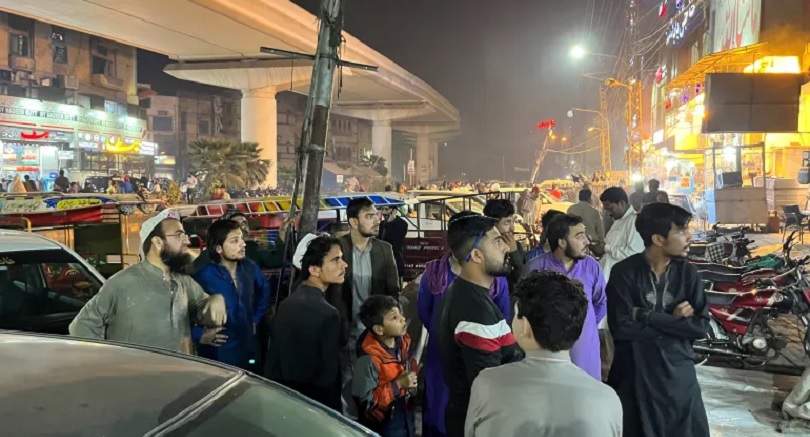 New Delhi: Strong tremors jolted large swathes of north India, including Delhi-NCR, on Tuesday night as an earthquake of magnitude 6.6 struck the Hindu Kush region in Afghanistan. People rushed out of their homes and came out on the streets as the powerful temblor shook the mountainous region at 10.17 pm. There was no immediate report of any loss of life or damage to property.
According to the National Centre for Seismology (NCS), the epicentre of the earthquake was 133 km south-southeast of Fayzabad in Afghanistan with a focal depth of 156 km. At least five people were injured in neighbouring Pakistan, where the magnitude of the earthquake was 6.8 and tremors were felt in cities such as Islamabad, Peshawar, Lahore and Rawalpindi. At the time of the earthquake, a stampede was reported in a market in Rawalpindi, The Express Tribune newspaper reported. In Khyber-Pakhtunkhwa province, at least five members of a family were injured after a roof of their house collapsed in Swabi, the report stated.
In India, the earthquake was felt across northern region, including Delhi-NCR, Jammu and Kashmir, Haryana, Punjab, Himachal Pradesh, Uttarakhand and Rajasthan. A resident in Rajasthan's Sri Ganganagar district said he felt three tremors back to back. A senior seismologist said the reason why people in northwest India and Delhi felt the tremors for a relatively longer time is because the 'depth of the fault was more than 150 km'. People in northern India first felt the primary waves and then were impacted by the secondary waves, he said.
According to the NCS, the epicentre of the earthquake was located at 36.09 degrees north on the latitude and 71.35 degrees east on the longitude with a focal depth of 156 km. There were disruptions in mobile services in some parts of the Jammu region immediately after the earthquake, an official said.
In east Delhi's Shakarpur, anxious people filled the congested lanes after claims by some that a building had tilted, but it turned out to be a false alarm. Two fire tenders were rushed to south-east Delhi's Jamia Nagar after a call claimed that a building was leaning there, officials said, adding further information is awaited. Delhi Chief Minister Arvind Kejriwal tweeted, 'Strong tremors were felt across Delhi-NCR. Hope you all are safe'.
The tremors also sparked panic in Rajasthan as people rushed out of buildings as a precautionary measure and enquired about the earthquake from others. In Punjab and Haryana and their common capital Chandigarh, people rushed out of their homes during the tremors. In Zirakpur, a town in Punjab which is on the outskirts of Chandigarh and has many high-rise residential societies, panic-stricken people rushed out of their homes and gathered in open parks. Reports from many places in Punjab, including Pathankot, Mohali, Jalandhar, Phagwara and Ludhiana, said strong tremors were felt.
There were similar reports from many places in Haryana, including Panchkula, Ambala, Karnal and parts of the National Capital Region. In Himachal Pradesh, people in Shimla, Mandi and several other places rushed to safety. 'Tremors were felt in all the 12 districts of the state but no loss of life or damage to property has been reported', Special Secretary Disaster Management Sudesh Mokta told PTI. Hundreds of residents rushed out of their homes in Noida – that houses scores of high-rise apartments — in the wake of the strong tremors.