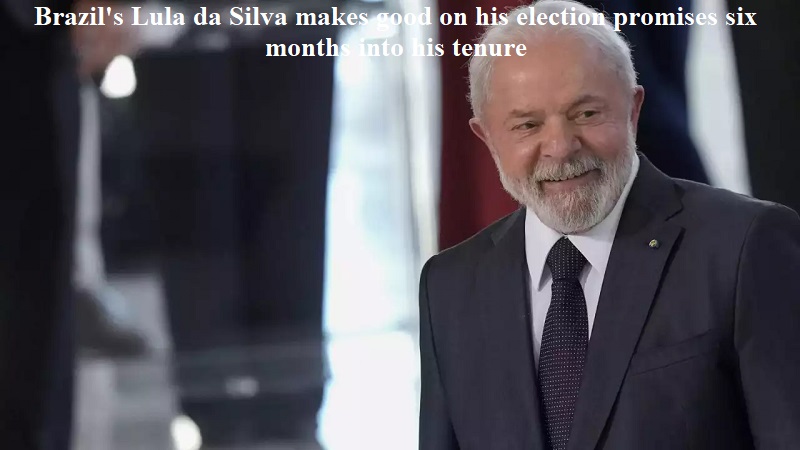 Six months into his presidency, Brazil's left-wing President Luiz Inacio Lula da Silva is fulfilling his campaign promises. Satellite data shows that deforestation in Brazil decreased by 31% from January to May, with only 1,989 square kilometers of forest cover being destroyed compared to 2,867 square kilometers during the same period last year.
This decline in deforestation is welcome news for environmentalists who were concerned about the country's shrinking forest cover under former President Jair Bolsonaro.
During his presidential campaign, Lula emphasized the protection of the Amazon rainforest, the rights of indigenous people, and combating corruption. Despite facing tough competition from Bolsonaro, Lula secured a narrow victory and overcame several political obstacles to assume office.
Joao Paulo Capobianco, the deforestation control secretary at Brazil's Environment Ministry, stated, "We had assumed deforestation at an accelerated rate, and we are now managing to reverse the trend."
Under Lula's administration, hefty fines amounting to $406 million were imposed in the first five months of the year, contributing to environmental protection efforts. This represents a 160% increase in fines compared to the annual average during Bolsonaro's four years in office. Additionally, 2,255 farms were embargoed for environmental violations.
Despite successfully curbing deforestation, Lula now faces challenges. The conservative-dominated Brazilian Senate passed bills that limit his power to protect indigenous communities, isolated tribes, and the environment. This raises concerns about the construction of infrastructure projects in the Amazon and the potential threats to tribal populations and their culture.
The passing of these bills serves as a reality check for Lula, highlighting the collision between his idealism and political realities. Experts note that Lula lacks support in Congress beyond left and center-left parties, allowing conservatives to exert their influence and limit his power. Indigenous leaders and environmentalists are worried about the future as Lula grapples with these setbacks.