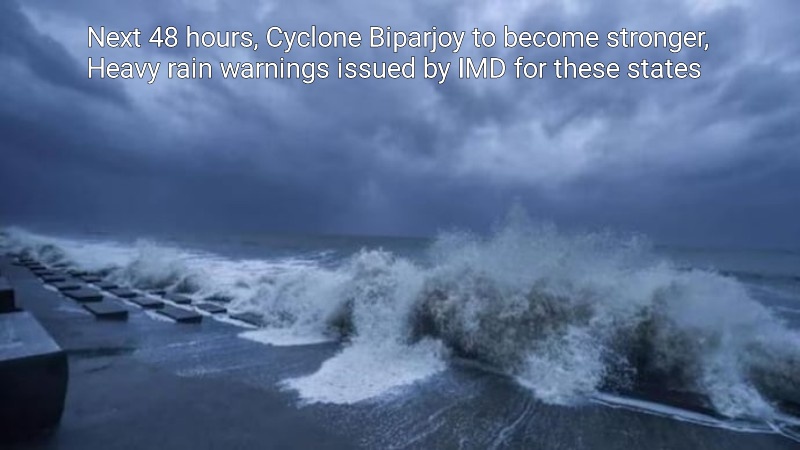 Early on Thursday, the India Meteorological Department (IMD) predicted that Cyclone Biparjoy will continue to strengthen over the next 48 hours, become a severe cyclonic storm, and then proceed towards northwest India over the following three days.
'VSCS BIPARJOY over east central Arabian Sea, lay centered at 2330hrs IST of 07 Jun, 2023 near lat 13.6N & long 66.0E, about 870km west-southwest of Goa, 930km SW of Mumbai. It would intensify further gradually during next 48 hrs and move nearly north-northwestwards during next 3 days,' the weather department tweeted.
For the next three to four days, the system is predicted to remain a very strong cyclonic storm. According to Skymet Weather, the storm may become much stronger given the lengthy distance it must travel over the water.
Cyclone Biparjoy was located 860 km to the west-southwest of Goa and 910 km to the southwest of Mumbai at the time this report was filed. As it moved towards the north-northwest, the cyclone would become stronger.
'VSCS BIPARJOY over eastcentral Arabian Sea, lay centered at 0530hrs IST of 08thJune, near lat 13.9N & long 66.0E, about 860 km west-southwest of Goa, 910km southwest of Mumbai, would intensify further & move north-northwestwards,' IMD tweeted on Thursday.
Gujarat
The Gujarati government declared on Wednesday that it is completely ready to deal with any potential natural disasters. Gujarati fishermen have been advised not to enter the Arabian Sea before June 14.
Between June 9 and June 11, the cyclone is expected to bring light rains to the Saurashtra and south Gujarat districts, an IMD official told news agency PTI.
Coastal areas of Lakshadweep, Karnataka, Goa, Maharashtra
Several southern states are expected to be affected by Cyclone Biparjoy. In these areas, the IMD has issued a wind warning for the following five days.
On June 7, gale winds with speeds of 80–90 kmph and gusts as high as 100 kmph are predicted to prevail across the Arabian Sea's east and central regions as well as nearby regions in its west and southeast.
By evening, these winds may become stronger and reach speeds of 95-105 kmph with 115 kmph gusts in the same region. The storm is therefore most likely to have an influence on adjacent regions of the west-central and south Arabian Sea, as well as the coasts of north Kerala, Karnataka, and Goa.
Kerala
Meteorologists anticipated a 'mild' monsoon to begin over Kerala and 'weak' monsoon movement beyond the southern peninsula.
The IMD stated on Wednesday morning that there are good conditions for the monsoon to arrive in Kerala in two days.
However, according to meteorologists, the cyclone has been affecting the monsoon's severity and that Kerala will experience a 'mild' commencement.