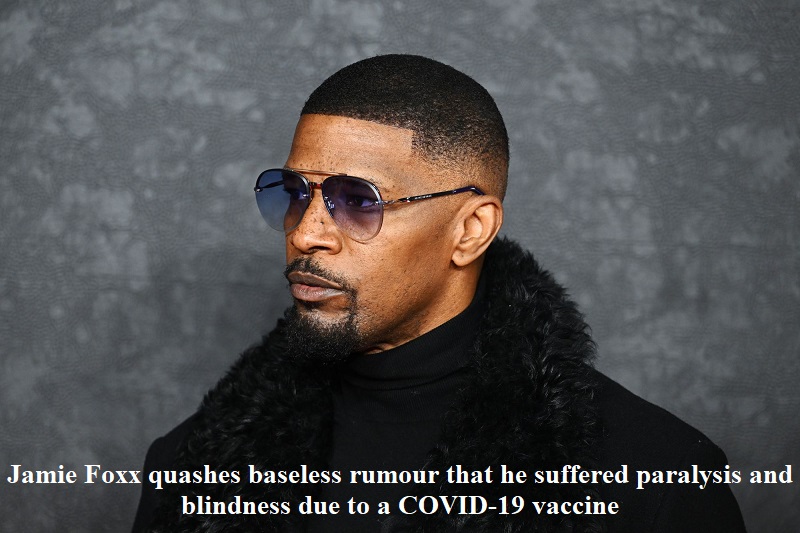 A spokesperson for Jamie Foxx has refuted a false rumor that has been circulating on the internet for the past few weeks. The rumor claimed that Foxx had experienced paralysis and blindness as a result of receiving a COVID-19 vaccine.
Foxx's representative swiftly dismissed the claim as "completely inaccurate." The controversy surrounding the actor's health began in early April when reports emerged that he had been hospitalized due to an undisclosed "medical complication."
A few days later, Foxx's daughter, Corinne Foxx, released a statement confirming his release from the hospital but did not provide any specific details about his condition.
More recently, podcast host and gossip columnist AJ Benza alleged that Foxx's health was in a poor state. Citing an unnamed source, Benza claimed that the actor had suffered a blood clot in his brain after receiving a COVID-19 vaccine, leading to partial paralysis and blindness. However, these claims have been refuted by Foxx's representative and remain unsubstantiated.
Although the news remains unverified, the viral spread of the rumor has unintentionally turned Foxx into a symbol for the anti-vaccine movement. Conservative commentators and Twitter users have latched onto the rumors as supposed evidence supporting their arguments against COVID-19 vaccines.
Despite the lack of evidence and official confirmation, the rumor has sparked discussions about vaccines and their potential side effects. Anti-vaccine proponents have used Foxx's case to further their stance.
The current state of Foxx's health remains unknown to the public. However, a post on his Instagram account from May 3 expressed gratitude and a sense of blessings, indicating a positive outlook during his recovery.