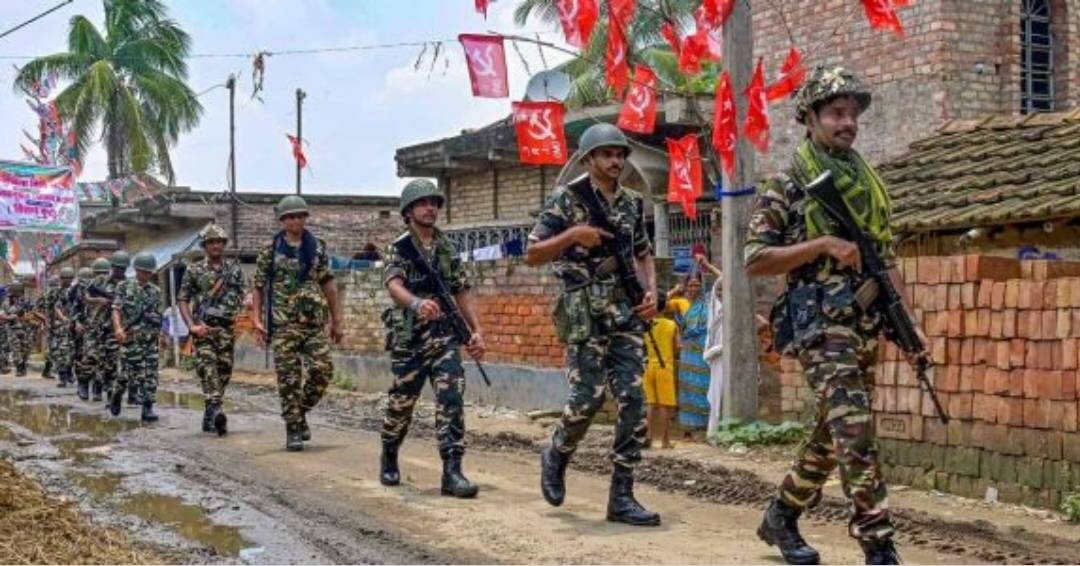 Violence Casts a Dark Shadow over West Bengal's Panchayat Polls: 9 Lives Lost
Tragic incidents marred the ongoing panchayat polls in West Bengal, resulting in the loss of at least nine lives, according to officials. Among the victims were five members of the TMC, along with one each from the BJP, CPI(M), Congress, and an Independent candidate's supporter. Alongside violent clashes that left several injured, ballot boxes were destroyed in two polling booths. As the day began with a turnout of 10.26 percent, Governor CV Ananda Bose visited affected areas, expressing concern for those injured and engaging with voters.
The BJP alleged that Madhab Biswas, their polling agent in Falimari gram panchayat, Coochbehar district, was killed when TMC supporters obstructed his entry into the polling booth, a claim refuted by the TMC. Another supporter of an Independent candidate, Abdullah Ali, lost his life in Kadambagachi area, North 24 Paraganas district, due to assault. In Murshidabad district's Kapasdanga area, a TMC worker named Babar Ali was killed in overnight poll-related violence, while Sabiruddin Sk, another TMC worker, met a similar fate in the district's Khargram area. The TMC also accused the BJP of killing their booth committee member, Ganesh Sarkar, in an attack in Tufanganj 2 panchayat samiti, Cooch Behar.
Tragedy extended to clashes between political factions as well. Malek Sheikh, brother of a TMC leader, lost his life in a clash with Congress supporters in Jisharattola, Manikchak police station area, Malda district. Additionally, the TMC claimed the death of one of its workers in Nadia's Chapra, while a Congress worker, Yasmin Sk, was allegedly killed in Murshidabad's Rejinagar police station area. In Purba Bardhaman district's Aushgram 2 block, CPI(M) worker Rajibul Hoque suffered critical injuries in an attack by TMC supporters and later succumbed to them at a hospital.
Instances of ballot box destruction and voter intimidation were reported from various areas. In Dinhata, Cooch Behar district, ballot boxes were vandalized and set on fire, accompanied by allegations of false voting. Protests demanding central forces' deployment also took place, with female voters in Nandigram gheraoing a police officer while holding bottles of poison.
Governor CV Ananda Bose toured affected regions, listening to complaints and witnessing the aftermath of violence. He expressed concern over the incidents and emphasized the need to halt such bloodshed on a significant day for democracy.
The ruling TMC questioned the whereabouts of the central forces deployed for the elections, citing their workers' alleged targeted killings and chaos caused by BSF personnel in Gitaldaha, Cooch Behar. Sharing images on social media, CPI(M) state secretary Md Salim drew attention to open ballot boxes lying in fields, raising questions about the state election process.
Over 600 companies of central forces and approximately 70,000 state police personnel were deployed for the elections. However, the BJP's state president, Sukanta Majumdar, accused the State Election Commission (SEC) of hesitating to deploy the central forces and raised concerns about the use of civil volunteers instead. The total number of seats in the panchayat polls includes 63,229 gram panchayat seats, 9,730 panchayat samiti seats, and 928 zilla parishad seats across 22 districts, with Darjeeling and Kalimpong having a two-tier system.
Despite the violence, long queues formed outside polling booths from early morning, demonstrating the determination of voters amid intermittent rainfall. The ruling TMC contested seats in all categories, while the BJP, CPI(M), and Congress also fielded candidates, contributing to a keenly contested electoral landscape.