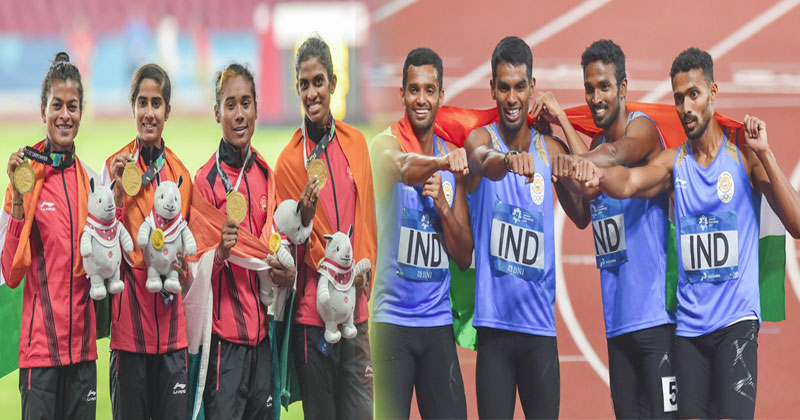 As the Asian Games 2018 comes to an end, India bags 5 medals in Thursday's events.
The two gold, a silver from 4x400m men's relay team and a bronze each from discus thrower Seema Punia and 1500m runner P U Chitra on Thursday took India's medal tally from athletics to 19 (7 gold, 10 silver, two bronze).
The first gold was won by Kerala athlete Jinson Johnson won the country's first 1500m gold in 20 years. Jinson won the race in 3 minutes 44.72 seconds.
2nd gold was won by the women's 4x400m relay team who maintained its Asian Games domination by winning its fifth consecutive gold.
The 4X400m relay team began with individual 400m silver winner Hima Das who provided a handsome lead to Poovamma, who maintained it and passed on the baton to Sarita, remained strong in her lap and passed the baton to Vismaya who comfortably finished the race. The finished the relay in 3:28.72.
READ ALSO: Asian Games 2018: Arpinder Singh Wins India's 10th Gold Medal
Meanwhile, the men's 4x400m relay race had to contend with a silver medal as the India team was defeated by Qatar. The Indian quartet finished the race in 3:01.85 while Qatar took gold with 3:00.56, which is an Asian record.
Discus thrower Seema Punia and middle-distance runner P U Chitra had to be content with bronze medals.
Seema could not defend the gold she won in 2014 as China's Asian champion Chen Yang hurled the disc to a gold-winning distance of 65.12 in her last attempt, which was a huge 2.86m more than the Indian.
Diminutive Chitra, who won gold in the Asian Championship last year in Bhubaneswar, clocked 4:12.56 to win a bronze, her first Asiad medal.