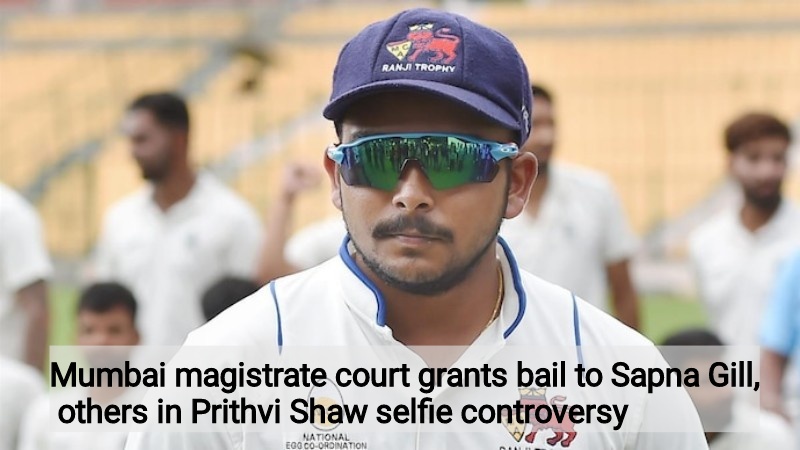 The Indian cricketer Prithvi Shaw and his friends were allegedly attacked outside the Hotel Sahara Star in Mumbai's Santacruz, and social media influencer Sapna Gill and three other people have been granted bail by the Andheri magistrate court.
The Mumbai police requested three days of police custody on Monday in order to look into their case against Gill and others. Ali Kaashif Khan, Gill's attorney, contested the police's use of extortion laws in the case.
Khan filed a bail petition after the Andheri magistrate court ordered Gill to be held in judicial custody, claiming that all of the accusations made against her are unfounded.
After hearing Khan's arguments, the court later granted bail to Gill and the other three accused who had been arrested alongside her. Khan had argued in front of the court that the complaint against Gill was made after the complainant became aware that a complaint would be made against them.
Atia Sheikh, a public prosecutor representing the police, argued against the bail request, claiming that the case's investigation was still ongoing. She argued that the accused had pursued Shaw in retaliation for him declining to pose for a selfie with her. They might have even been able to murder Shaw, she continued.
Five individuals were arrested by the Oshiwara police on Friday for assaulting Shaw, abusing him, and damaging his car. They claimed that on Wednesday, Shaw and his friends had dinner at the cafe at the Hotel Sahara Star. Shaw claimed that after taking a few selfies with him, Gill and Shobhit Thakur started pestering him for more pictures.
The two are accused of inappropriate behavior towards Shaw after he declined to take any more selfies. Following that, Gill and other people arrived on motorcycles and in a car at 4 am to attack Shaw and his friend as they were leaving the hotel.
According to the complaint, one of the accused used a bat to smash the car's rear windscreen. After that, Gill is accused of threatening Shaw with a false complaint and requesting Rs 50,000 in exchange for his silence.
Following this, a FIR was filed on the complaint under the Indian Penal Code (IPC) against Gill, Thakur, and others for rioting, extortion, and criminal intimidation.
On February 18, Gill and co-defendant Thakur were taken into custody. The Andheri magistrate remanded Gill to police custody until February 20 after seeing her on Saturday.