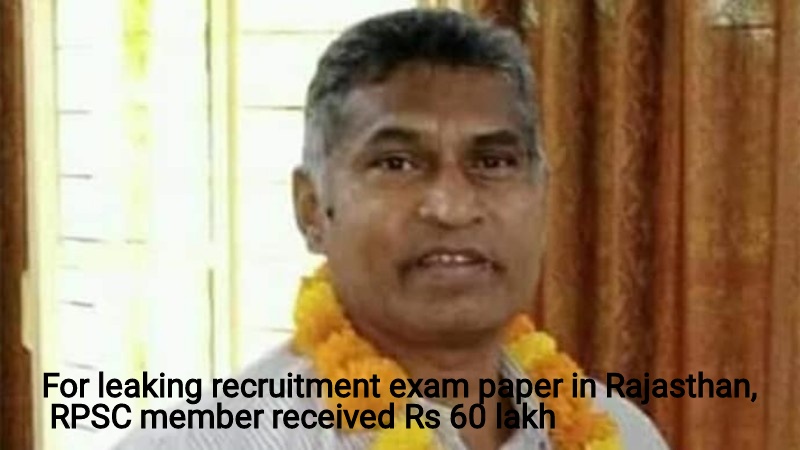 In connection with the leak of the 2022 Grade II teacher recruitment paper, the Enforcement Directorate (ED) questioned Babulal Katara, an arrested member of the Rajasthan Public Service Commission (RPSC), and other individuals. A government teacher from Jaipur who had bought paper from Babulal Katara in the Udaipur Central jail was also questioned by the ED officials.
The investigation agency questioned Bhupendra Saran, Suresh Vishnoi, and other suspects and filed a case in the Rajasthan paper leak case to look into the allegations of money laundering.
After interviewing the culprit, Babulal Katara, who was tasked with creating the senior teacher recruitment exam paper, disclosed the special operations group (SOG), he had leaked it for Rs 60 lakh. In April, the state police's Special Operations Group (SOG) detained the RPSC member, his nephew Vijay Katara, and Gopal Singh, a commission driver.
According to SOG, Katara paid 60 lakh rupees to give the questions to suspended vice-principal of a government school, Anil Kumar Meena, also known as Sher Singh. Meena then handed the paper to Bhupendra Saran and Suresh Kumar Dhaka, the other two principal offenders in the racket. The Rajasthan Police apprehended Anil Kumar Meena in Odisha.
In December of last year, the Grade II teacher recruitment paper was leaked, which led to its cancellation. 37 candidates were among the 55 people who were arrested in connection with the paper leak.
Former deputy chief minister of Rajasthan Sachin Pilot also poked fun at current chief minister Ashok Gehlot in this regard and questioned the inaction in cases involving paper leaks.
He said, 'Today, when our children are pained, does our heart not ache? When our girls, who have been sitting at Jantar Mantar for so many days, allege harassment, they are pained. Does our heart not ache? Today, our children who have studied for years, their parents strive hard to make ends meet and for their tuition, get them to study. They give exams, papers get leaked, get cancelled.'