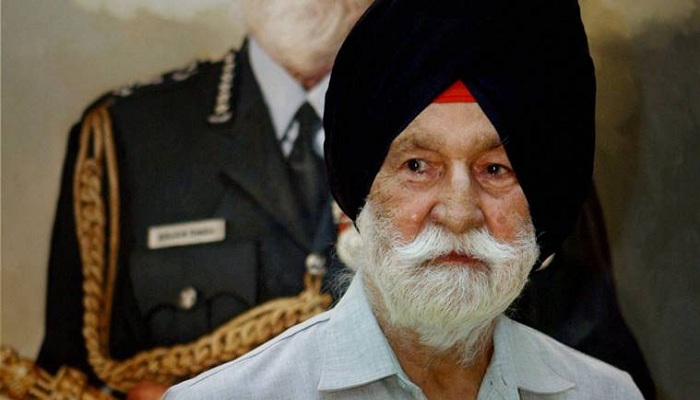 Arjan Singh, Marshal of the Indian Air Force (IAF) and India's oldest, five-star ranked air force officer, died at 7.47pm on Saturday after suffering a heart attack. He was 98.
Arjan Singh was the only officer of the IAF to be given a distinction equal to that of a Field Marshal.
In 2016, the IAF named its Panagarh (West Bengal) air base after Arjan Singh on the occasion of his 97th birth anniversary. The Panagarh base would be called Air Force Station Arjan Singh. He was the only living officer to have a base named after him.
In his glorious career, Arjan Singh flew over 60 different kinds of aircraft and his zest for flying didn't end until the day he retired in 1969.
When he was Chief of Air Staff, the IAF acquired supersonic fighters, strategic reconnaissance aircraft, tactical transport aircraft and assault helicopters, many of which are still in service today.
Born on 15 April 1919 in Lyallpur, Punjab (now in Pakistan), Arjan Singh entered the distinguished Royal Air Force College at Cranwell at the age of 19 and graduated as a pilot officer the following year.
Singh served as the IAF's Chief of Staff during the 1965 India-Pakistan war. When Pakistan launched its Operation Grand Slam, in which an armoured thrust targeted the vital town of Akhnur, he was summoned to the defence minister's office with a request for air support.
After his retirement from the Indian Air Force in 1969, Singh served the nation as an ambassador to Switzerland in 1971, and as High Commissioner to Kenya in 1974. Later, he also became the Lt Governor of Delhi, in 1989.
He was promoted to the five-star rank in 2002.