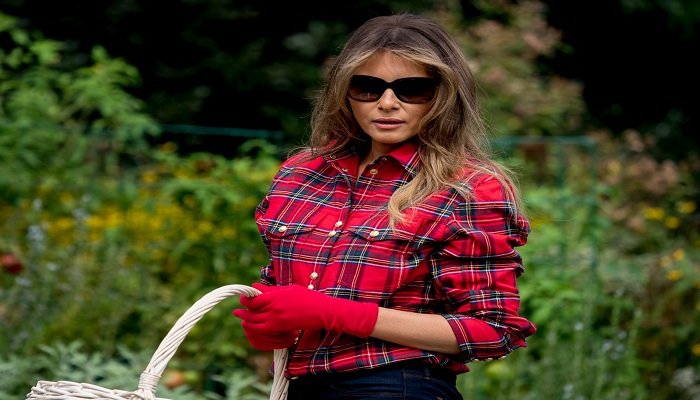 Melania Trump has found her first lady fashion sweet spot: aspirational but just barely within reach – and increasingly self-aware.
On Tuesday, the first lady wore a $450 green Cefinn dress to meet the Pittsburgh Penguins NHL team and visit an opioid clinic in West Virginia. Cefinn is a fashion brand created by Samantha Cameron – wife of former British prime minister David Cameron.
The dress fits into a new stylish game plan by Trump, one she has been executing on during public trips to hurricane-ravaged areas, including Puerto Rico and Texas.
Trump has been noticeably shifting away from super-luxury items. The Cefinn dress was $450, her gardening shirt was $1,380, and a controversial pink dress Trump wore to give a United Nations speech was $3,000. They're all pricey outfits – but pretty comparable to some of the more expensive dresses Michelle Obama would wear as the first lady.
That isn't to say that Trump is necessarily trying to exactly replicate Obama's style. Obama was primarily known for her more accessible fashion choices, with dresses priced at more than $1,000 as the exception – not the rule. Instead, Obama was known for shopping at J. Crew and Target.
Trump has been spotted wearing a few outfits from J. Crew, but most of her less expensive looks are out of reach for most of the US. That makes sense – Trump and her husband have long embodied a more gold-plated, luxe version of the American dream than the Obamas.
Trump's supporters don't want her to wear clothes from Target; they want her to be more stylish and glamorous than the average American. Wearing more accessible clothing isn't about actually living like most of the US. Instead, it is a means of avoiding an over-the-top backlash that paints Trump as completely out of touch.
There is also a less obvious story that Trump is telling with her choices: That she knows people are watching.
Trump isn't without her fashion missteps, such as wearing a dress ill-suited for the podium to give a speech. However, her style is evolving to suit her needs – and she wants people to notice.