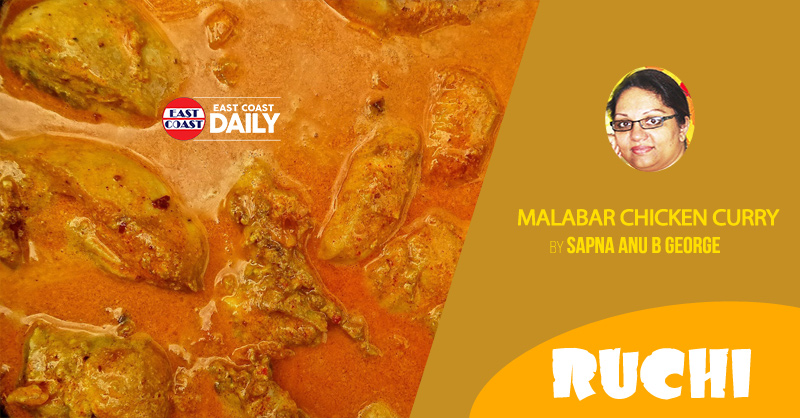 Malabar Chicken Curry
A Food Note:- Nadan chicken curry recipe with coconut milk is one of the best recipes from Kerala which is called Malabar Chicken Curry. Any Malabar curries are made by toasting authentic Kerala spices with roasted coconut.
Malabar's incredible cuisine is the influence of Arabic, Syrian, Chinese, Dutch, Portuguese, and British spice traders over the centuries. A plentiful use of spices, tart tamarind, and rich coconut are the traits of Malabar cookery. This spiced radiant chicken curry is typical of Malabar's taste forte. It's eased up by the sumptuous coconut milk which gives it an aromatic flavour of taste than the customary fiery feel. The northern and central parts of Kerala are known as Malabar and Kozhikode is considered as the capital.
Ingredients
Chicken -½ Kg, cut into small pieces
Red Chilli powder -2 TBSP
Coriander powder -3 TBSP
Green Chilli sliced thinly -2
Tomato sliced thinly -2
Grated coconut -1
Turmeric powder -¼ TSP
Fennel seeds -1 TSP
Onion sliced thinly -2
Garlic -8 cloves
Ginger – 1-inch piece
Garam masala -1 TSP
Shallots -5
Pepper-corns -1 TSP
Curry leaves as required
Salt as required
Method
Cut the chicken to small pieces. In a deep vessel add coconut oil and sauté onion. When it's translucent add ginger garlic and curry leaves and keep sauté. Make a fine paste of the remaining spices in a little water and add this to the pan and continue sautéing. Add the chicken and coconut pieces into it and let the water come out of the chicken and keep stirring well. Add a little hot water and cover and cook well. Once the curry is ready, add little hot water and fry the button onions and curry leaves and pour over the curry and serve hot.
Recipe by:
Sapna Anu B George
SABG/Freelance Journalist/Poet/Columnist
www.sapnageorge.com