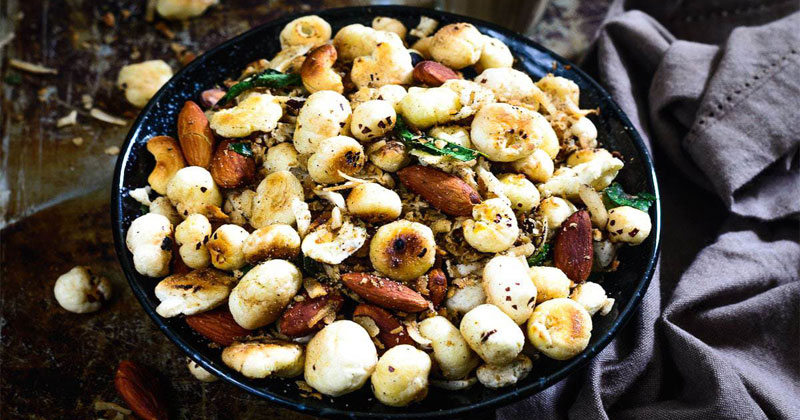 Love caramel popcorn? Then you will simply love this caramel makhana that is caramelized with jaggery and tossed along with oven roasted badam. It is a super healthy snack that is packed with protein which you can serve for kids or even take it to work, a road trip, treks & picnics.
Makhana Badam Mixture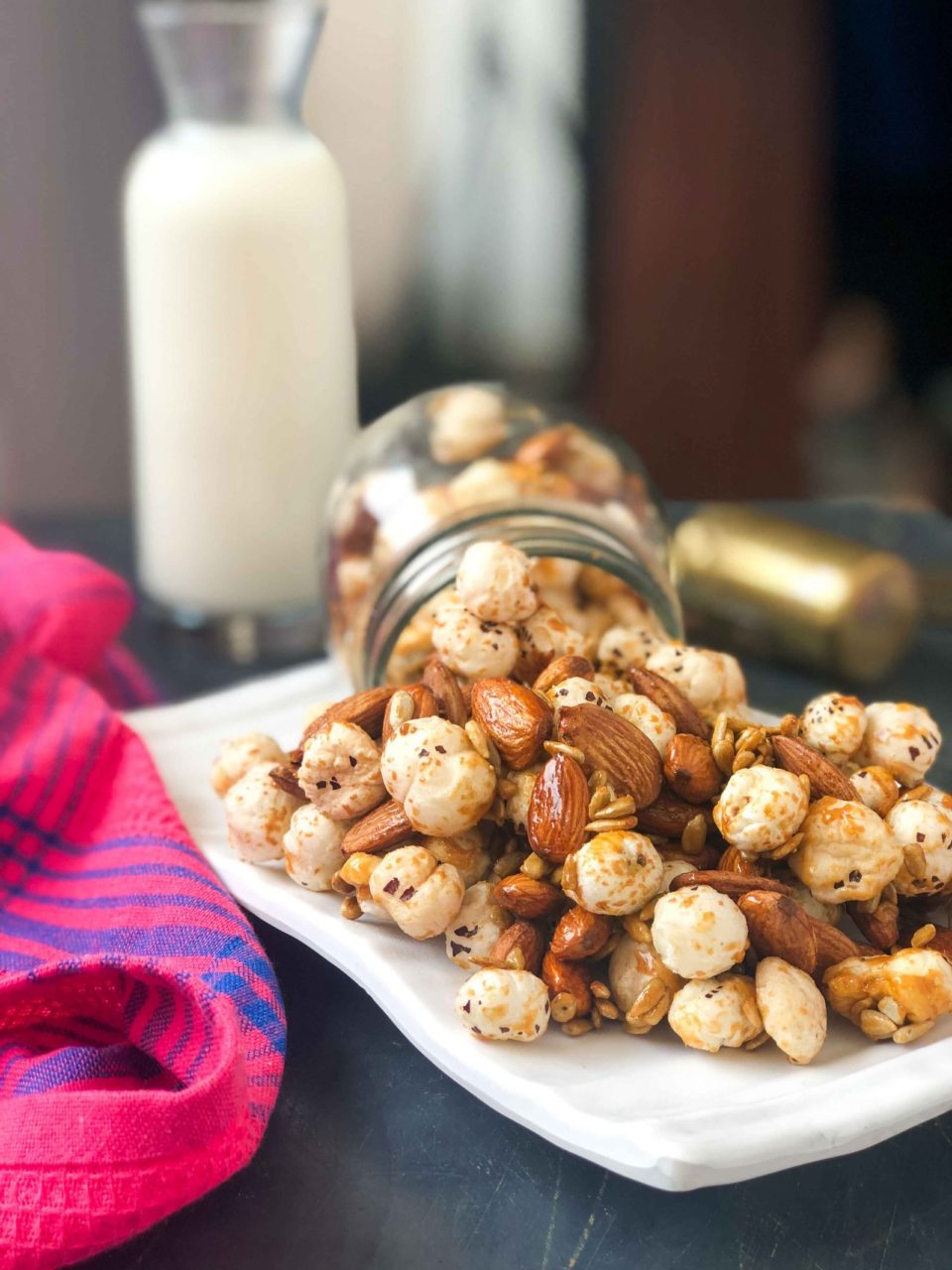 Prep in: 5 minutes
Cooks in: 25 minutes
Total in: 30 minutes
Makes: 4 servings
Ingredients
1 cup Almonds
2 cups Phool Makhana (Lotus Seeds)
1/3 cup Sunflower seeds
1 tablespoon Ghee
1 pinch Salt
1/4 cup Jaggery, crushed
READ ALSO:  Gift your Friend this delicious chocolate- Nutella Truffles
How to make
To begin making the Makhana Badam Mixture/ Trail Mix, in a mixing bowl, combine the makhanas along with the salt and ghee and toss it well, ensuring all the makhanas are evenly coated.
Preheat an oven to 180-degree Celsius.
Transfer the ghee coated makhanas onto a baking tray and allow them to roast for a good 15-18 minutes until they turn crisp.
Remove from the oven and transfer to a mixing bowl.
In the same tray place the almonds and allow them to roast for 10-12 minutes, remove from the oven and transfer it into the same the bowl as the makhanas.
Into the makhana badam mix, add in the sunflower seeds, jaggery and give it a good mix.
Transfer this entire mixture back into the tray and flash bake for 5-7 minutes, at 200-degree Celsius. This process will allow the jaggery to melt. Once done, remove from the oven and allow it to cool.
The Makhana Badam Mixture/ Trail Mix will be a little sticky till it dries up. Once it dries up and cools down, transfer the Makhana Badam Mixture/ Trail Mix into an airtight container and store.
You can make this for the festival for Diwali and serve it as a healthy snack for friends and family.
Serve Makhana Badam Mixture/ Trail Mix as an o the go snack during road trips or picnic or serve it as an evening snack along with a smoothie You could also serve it for breakfast along with some milk or yogurt.