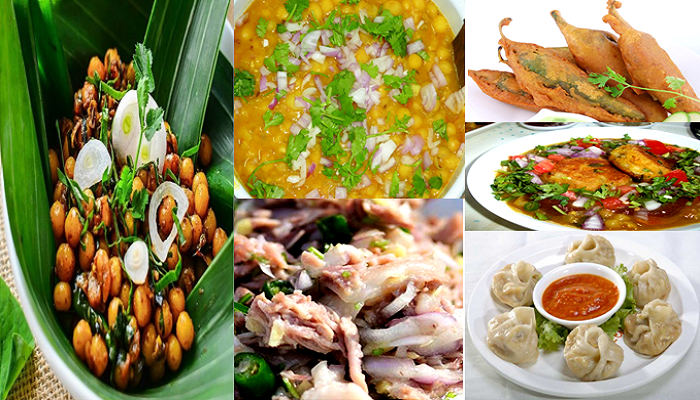 Who doesn't love to gorge on food which is available at streets. Our streets are filled with various types of street foods.And the variety varies with culture and states.the north boasts about foods such as jilebi, aloo tikki, gol gappa..While the eastern India gives us delicious Momos. The south has a wide range of foods, such as idli-vada sambar, oothappam, masala dosa, banana fritters.
We can make most of these at our home whenever our taste buds ask us so, if we know the recipe.Here are some easy street foods that you could try to make with your skills.
Chicken Momos Recipe (Delicious Steamed Chicken Dumplings)
Preparation Time: 30 min   Cooking Time: 30 min
Ingredients
For Momos
2 cups all-purpose flour
1 tbsp oil
1 ½ cup boiled minced Chicken
2 finely chopped onions
1 tbsp finely chopped garlic
3 tsp finely chopped ginger
2 finely chopped spring onions
3 – 4 chopped green chillies
Salt & pepper to taste
For the sauce
2 tomatoes
6 dried red chillies (soaked in vinegar for two to three hours)
6-8 garlic pods
1 one-inch piece of ginger
Cumin and salt to taste
Method
Mix the flour with some salt, oil and water and knead into a stiff dough. Make sure that the dough doesn't stick to your hand. Mix the chicken with onions, garlic, spring onions and chillies. Add salt and pepper to taste. Break a small piece of dough and roll it into a smooth ball. Use a rolling pin to make medium-sized chappatis which are 2.5 inches in diameter. Ensure that the edges are slightly thinner than the centre. This makes it easier to hold the filling. Use a tablespoon of chicken mix and fold the chappati into half, like a neat half moon. Twist the edges to seal and make sure that there is no opening. Put a steamer to boil and grease the steaming tray with some cooking oil. Place the momos on the steamer and let it cook for 10-15 minutes. To prepare the sauce, grind all the ingredients together in a mixer. If the paste is too thick, add a tablespoon of water and grind again. The tangy spicy sauce is ready to accompany your momos.

Aloo Tikki
Prep Time: 10 mins Cooking Time: 45 mins
Ingredients
4 potatoes, boiled and peeled
1/2 tsp coriander seeds
1/2 tsp pepper
1/2 tsp cumin
1/2 cup peas, boiled
Sea salt to taste
2 tsp ginger paste
100 ml refined oil
1 onion, julienne
1 green chilli, chopped
Fresh coriander, a small bunch
1/2 tsp red chili powder
Method
Dry roast coriander seeds, pepper and cumin in a pan. Powder the dry roasted spices into mortar and pestle. In a bowl mash four potatoes. In another bowl mash half a cup of peas. Combine these two together and mix well. Add 2 tsp ginger paste. In a pan, saute one onion (julienne) with refined oil and add them into aloo tikki mixture. Add little salt, roasted masala spice, green chilly, fresh coriander and red chilli powder into aloo tikki mixture. Mix well. Add 1/2 tsp oil for some moisture. Take a portion of aloo tikki mixture and make a ball out of it and gently flatten them into a round shape. Keep them in a fridge for 30 minutes. Sprinkle some flour onto them. In a pan, shallow fry the aloo tikki with refined oil. Garnish and serve hot.

Paav Bhaji
Preperation time :15 mins Cooking time:15 mins
Ingredients
1 large onion chopped finely
1 tsp ginger, minced
1 tsp minced garlic
2 green chillies slit lengthwise
1 bell pepper, finely chopped
3 tomatoes, finely chopped
1 cup each of each of these vegetables, finely diced and boiled: green beans, carrots, cauliflower
1 cup boiled and peeled potatoes
1/2 cup boiled green peas
3 tsp pav bhaji masala
1 tsp red chili powder
1/4 tsp turmeric powder
Salt to taste
1/2 tsp lemon juice
2 buns (called pavs)
Method
Heat oil in a pan. Add onions, ginger, garlic, and green chillies and sauté till golden brown. Add boiled vegetables and stir. Stir in the pav bhaji masala, turmeric, tomatoes, capsicum and salt. Add slit green chillies and water and mix it well. Cook for 4-5 minutes. Mash the vegetables till they are little pulpy. Add lemon juice and serve with toasted buns or other bread.
Bhel Puri
Preparation time: 5 mins Cooking Time: 2 mins
Ingredients
2 cups bhel / puffed rice
½ cup mixture
5 papdis / poori
¼ onion, finely chopped
½ tomato, deseeded and finely chopped
½ – ¾ tsp chilli powder, adjust to your spice level
3-4 tsp green chutney
3-4 tsp tamarind chutney
salt to taste
½ cup sev
¼ boiled potatoes, roughly chopped
½ lemon, juice
few coriander leaves, finely chopped
10 peanuts, deep fried
Method
In a large mixing bowl, take 2 cups of crispy puffed rice to that add ¼ cup mixture and crush 3 papdis. Now add finely chopped onions and tomato. Reserve some for garnishing. Also add chilli powder, green chutney, tamarind chutney and salt to taste then add ¼ cup sev and give a good mix. Now add boiled chopped potatoes and mix. Finally add some more mixture, coriander leaf and lemon juice, give a final mix. Prepare a cone from old news paper. Make sure to seal the bottom well. Fill the cone with prepared bhel puri. Also top with some finely chopped tomato, onion, sev, peanuts and coriander leaves. Serve bhel puri with 2 puris / papdis to eat with.