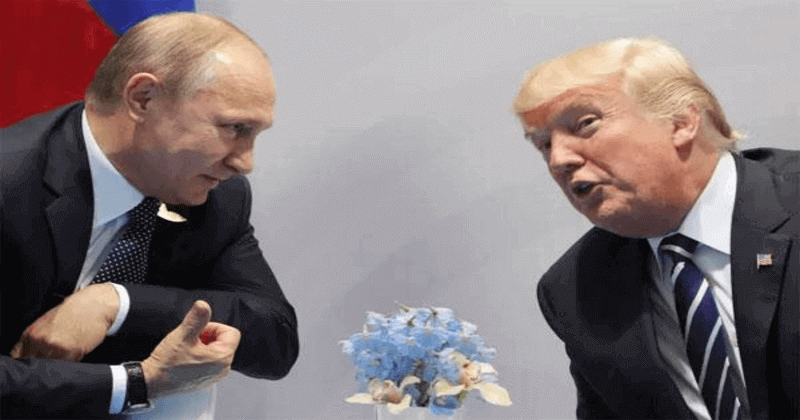 Russian President Vladimir Putin had been re-elected in the recently held presidential elections.
Many counterparts had called in or tweeted their congratulations and well-wishers. So did Donald Trump, but was slammed for his gesture.
Donald Trump's congratulations call had lead to fresh criticism of his muted tone towards Moscow amid an ongoing probe into Russian interference in the 2016 US presidential election.
In a telephonic conversation on Tuesday, Trump did not raise with Putin the "lopsided" nature of his victory, Russia's meddling in the US presidential polls or Moscow's role in a nerve agent attack on a former Russian spy and his daughter in the UK, a leading news agency reported.
In fact, the President described his conversation with Putin as a "very good call" and said they talked on a range of topics including arms control and the security situations in Syria and North Korea.
READ ALSO: Did Vladimir Putin win the Presidential elections by default?
"We'll probably be meeting in the not-too-distant future," Trump said of Putin, though White House Press Secretary Sarah Sanders emphasized that nothing was planned.
The President's failure to raise Moscow's alleged poisoning of the former spy in Britain in the phone call drew a rebuke from Senator John McCain, chairman of the Senate Armed Services Committee, who wrote on Twitter: "An American President does not lead the Free World by congratulating dictators on winning sham elections.
"And by doing so with Vladimir Putin, President Trump insulted every Russian citizen who was denied the right to vote in a free and fair election."
Trump is not the first Commander-in-Chief to call Putin to congratulate him on winning re-election. Former President Barack Obama called the Russian leader in 2012 and, according to a White House readout, congratulated him on winning his last re-election campaign.
Trump and Putin last met in Vietnam during the Asia-Pacific Economic Cooperation summit. The two did not hold a formal meeting, but they did informally talk a number of times during the two-day summit. The talks, while brief, looked friendly.