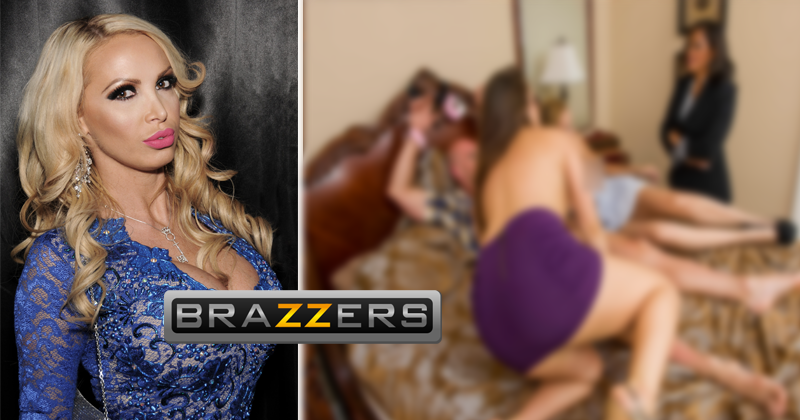 Adult entertainer Nikki Benz says in a new lawsuit that she was beaten during a shoot and pressured into saying it was consensual before she could get paid.
The lawsuit brings to court allegations that Benz first revealed on Twitter two years ago. She is suing the porn company Brazzers, its parent company Mindgeek and co-stars Tony T. and Ramon Nomar for sexual battery, sexual harassment and other offenses.
The alleged incident occurred during a 2016 scene directed by Tony T. Benz said she consented to being touched by Nomar, another performer, but Tony T. struck and yelled at her numerous times during the shoot. Benz said she had attempted to halt the scene because she had consented only to interactions with Nomar. But then both men allegedly brutalized her.
the director himself put his hands on me and was choking me…never in a million years did I think @Brazzers would allow it

— NIKKI BENZ (@nikkibenz) December 20, 2016
"[Tony T.] would film with one hand and choke Benz with the other hand," the suit says, according to Jezebel. "Nomar stomped on Benz's head. Between Tony T. and Nomar, Benz was hit, slapped choked and thrown on the ground and against the wall … water was poured on the walls and floor to cover up her blood." It says Benz was also "gagged with her underwear" and water was "poured down her throat, causing Benz to choke."
Also Read:  These are the most famous porn stars who are real-life couples- See Pics
During an on-screen exit interview — a practice used by some porn companies to show the shoot was safe and consensual — Benz refused to cooperate with Tony T., who forced her to re-record the scene and say she consented to the treatment, according to the suit. Benz was told that "if she did not do so, [she] would not receive her check."
The suit says the defendants are also guilty of gender violence, creating a hostile work environment, and sexual harassment. Benz, 36, had previously discussed the situation on Twitter in December 2016.
Her lawyer, Daniel Gilleon, told Adult Video News that Nikki was seeking $AU6.4 million worth of damages for the alleged sexual assault and battery. Shortly after the alleged incident took place, Benz appeared to claim she didn't consent to the scene.
Source: Oxygen