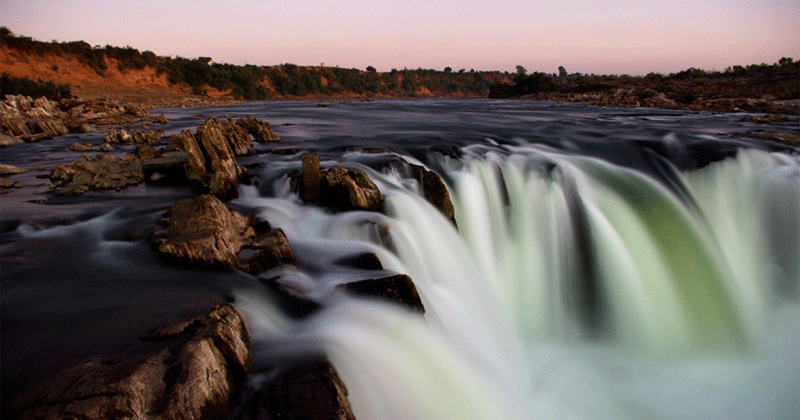 Also known as Smoke cascade, the picturesque Dhuandhar Falls is located at Bhedaghat 30 km away from Jabalpur.
'Dhuan' means smoke. The mist created by water falling on hard rock creates visuals of smoke emanating from the river bed. Hence it is called Dhuandhar or Smoke Cascade. The whitewater pummels down to form a gorge known as the Marble Rocks.
Just 98 ft high, it is still a popular destination edged by evergreen trees and shrubs. The sight of Narmada River falling down from a great height is a sight to behold. The smoke cascade formed by the water sprays works as a treat for the eyes.
Dhuandhar falls is actually located on the Narmada river, one of the five holy rivers of India. It is believed that a dip in the holy river can wash away one's sins.
One can take a dip in the cool water along the banks upstream, roam around the viewpoints, click photographs or just sit back and enjoy nature's tranquillity. Visitors never miss out on the shopping aspect, as marble artifacts from the local vendors close to the waterfalls make for great souvenirs.
Marble Rocks, located just around a km away from the waterfalls is worth seeing. Boating is an amazing experience, especially by the moonlight. Boating facilities are available from November to May. If one is out for some adventure, crossing the river using the ropeway could prove exhilarating. Boating in the Narmada is not allowed during monsoon season.
Madhya Pradesh, an often forgotten destination, is definitely brought to the map with places like Dhuandhar Falls and Marble Rocks. It is archaeologically, historically and culturally an extremely rich state.
Jabalpur is the nearest town. Balancing Rocks, Chausat Yogini Temple, Dumna Nature Reserve, Bastar Palace, Madan Mahal Fort and Bargi Dam are some of the other beautiful places to check out in Jabalpur.
Another major attraction is Bandar Kodini Point. The river passes through the narrow stretch of rocks, which was earlier narrow enough for monkeys to jump across, hence named Bandar Kodini. Due to the constant shifting of the rocks, after each monsoon season, the distance between the rocks has further widened.
SHOPPING
Marble artifacts, jewellery and soap-stone carvings are available at stalls near Dhuander waterfalls. They make for great souvenirs and gift items.
WHERE TO STAY
There are many budget hotels in Bhedaghat. Air-conditioned and non-AC room hotels are also available.
WHERE TO EAT
Eating options are limited around Dhuandhar Falls. It is advisable to carry food and enough water along. There are a lot of restaurants and small road side shops that offer a wide range of food in Jabalpur. Cuisines of Indian and Chinese are served at the restaurants at Jabalpur.
BEST TIME TO VISIT
The months from September to March is the best time to visit the waterfalls.