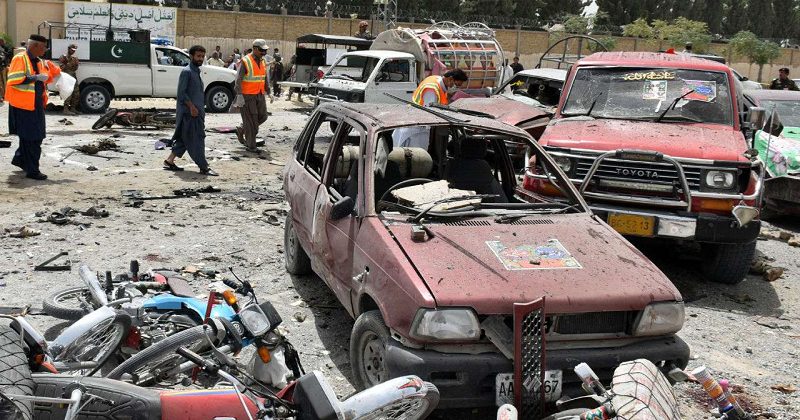 At least 34 people were killed, including 31 in a deadly suicide blast outside a polling station in Pakistan's Quetta city and 36 others injured as several incidents of violence were reported.
In Pakistan's restive Balochistan province, a suicide blast targeting a police van killed at least 31 people, including five policemen and two minors outside the polling station, and nearly 30 others were injured in a blast near Quetta's Eastern Bypass. Quetta is the provincial capital of Balochistan province.
A suicide bomber wanted to enter the polling station near Quetta's Eastern Bypass but failed due to the heavy presence of the Frontier Corps and the Police in and outside the polling station, Ejaz Goraya, a senior police official, said.
"He then went and detonated close to a police van near the station. I can confirm that the suicide attack has left 31 people dead and around 32 have been shifted to the Civil Hospital," Goraya said.
The Pakistan Army has stationed over 3,70,000 personnel across the country to ensure security for the election, bolstered by an additional 450,000 police.DIG Abdul Razzak Cheema's convoy was attacked. He is reported to be safe, according to sources.
In Khyber-Pakhtunkhwa's Swabi district, supporters of two rival parties exchanged fire outside a polling station, killing a worker of former cricketer Imran Khan's Pakistan Tehreek-e-Insaf (PTI) and injuring two others, police said.
The PTI worker was killed as party activists clashed with Awami National Party (ANP) workers outside a polling station for NA- 19 (Swabi II) and PK-47 (Swabi V) in Nawan Kali area.
Read More: OMG! Pakistan Daily Correspondent Wants Pinarayi Vijayan as India's Education Minister
Another person was killed in firing outside a Mirpurkhas polling station in NA-219 Dighri area, the report said.
In a separate incident, four people were injured in a cracker blast outside a political camp in Larkana.
Meanwhile, PML-N leader Shahbaz Sharif has condemned the deadly suicide attack in Quetta.
"Heart broke to learn of the martyrdom of innocent people including police officials & injuries sustained by others in a terrorist attack in Quetta at a time when the people are exercising their democratic right to vote. My profound condolences to the bereaved families," he added.
PTI-chief Imran Khan also condemned the terrorist attack.
"Condemnable terrorist attack in Quetta by enemies of Pak seeking to disrupt our democratic process. Saddened by the loss of innocent lives. Pakistanis must defeat the terrorists' design by coming out in strength to cast their vote," Khan tweeted.
The attack in the troubled province of Balochistan is the second major attack this month after nearly 150 people were killed and some 200 injured when a suicide bomber attacked an election corner meeting of the Baluchistan Awami Party in Mastung district.
The voting in Pakistan started at 8 AM local time on more than 85,000 polling stations. The counting of votes will be done on the spot soon after the conclusion of the polling process at 6 PM and the results will be announced within 24 hours.
More than 30 political parties have fielded their candidates for the elections.
Pakistanis are voting to choose a new government in the second democratic transition of power in the nation's 70-year history amid accusations of manipulation by the powerful army and concerns over the participation of Islamic hardliners in large numbers.