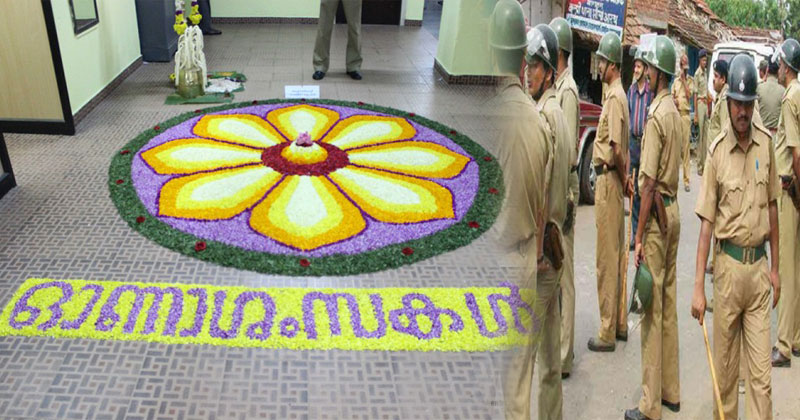 HAPPY ONAM TO ALL THE READERS!!!!
This Onam the police force has decided to strengthen the security around to deal with the rush and bustle of the festival.
With Onam festival comes the happiness, gaiety, the last minute shopping and rush. But it also a good time for the robbers and thieves to strike, breaking the law and order.
To prevent this Thiruvananthapuram police have decided to deploy 1,800 policemen on special duty in the city area so as to manage traffic movement as well as provide security to people's life and property.
The 1800-member workforce will be distributed in selected pockets like Chalai market, which witness huge footfall close to Onam days, and at shops where the people usually gather in throngs.
READ ALSO:  Planning To Visit Velankanni Church During Onam? Check Out These Special Train Timings
During nighttime, police personnel will be deployed to marketplaces so that public can shop till midnight without being perturbed by rowdies and delinquents.
Cultural zones and tourists destinations are included as well. "The District Tourism Promotion Council will be setting up about 30 venues that will be having cultural activities as well as counters and stalls. Those areas would attract a huge crowd and hence we will be deploying more force in such places," Prakash said.
In key spots where the cultural activities take place throughout the festival, 50 cameras will be installed to curb pickpocketing, eve teasing, chain snatching as well as road rage.
The department will also set up a special control room on the occasion to coordinate its activities. Taking into account the long holidays, the police will be forming special beat patrolling teams to ensure that empty houses are not being robbed.
"Last year, the special beat team was successful in preventing the robbers from striking at empty houses. Since the schools and offices will be closed, a lot of families move out of the city after locking down their houses. This year also we are planning to set up such patrolling teams," Commissioner said.