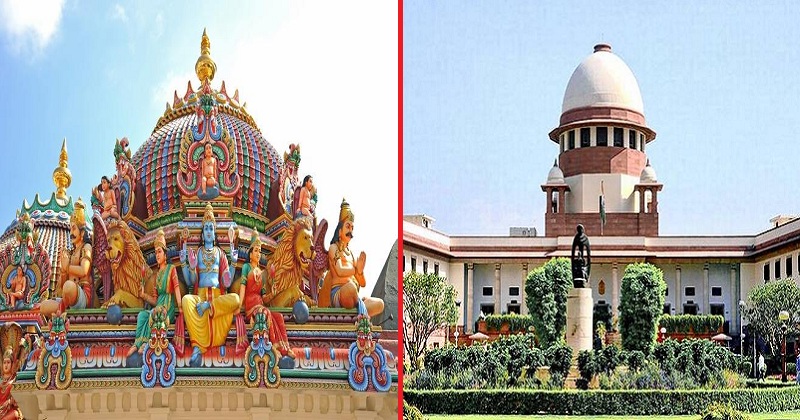 The Supreme Court has passed a judgement revoking the Karnataka Government's move to take over Gokarna Temple's administration from the Ramachandrapura Mutt.
Supreme Court on Wednesday asked the state government to hand over the administration of Mahabaleshwara temple of Gokarna back to the mutt until the court settles the case. Two weeks ago, the temple was taken over by the district administration of Uttara Kannada as per the High Court's order.
A bench consisting of Justice AM Khanwalikar and Kurian Joseph overturned the Karnataka government's takeover of the temple.The seer of the Ramachadrapura Mutt Sri Raghaveshwara Bharati welcomed the judgement with a tweet which said 'Satyameva Jayate'.
The historic temple was administered by trustees for several years. However, on August 12, 2008, the BJP government decided to hand over management of the temple to the mutt. After 10 years, quashing this move of the government, the High Court had ordered to hand over the temple back to the Endowment Department. Challenging the HC order, the mutt approached the apex court.
On September 19, the district administration took over the temple. DC S S Nakul who is also the chairman of overseeing committee, visited the temple and took charge of temple administration. On Wednesday, the mutt claimed, hearing their petition, the Supreme Court ordered the state government to hand over the temple to the mutt till final judgment comes.
The mutt has been celebrating the apex court's decision. In response, Raghaveshwara Bharati swamiji of Ramachandrapur Mutt tweeted it is not possible to separate them from the temple. Balachandra Dixit, who had filled a PIL with the High Court against handing over the temple to the mutt said the mutt misinterpreted the SC directive.
In fact, the SC was against forming another committee and gave its nod to executive officer of the Endowment Department to administer the temple. He, however said he has not yet got order copy of the Supreme Court, but his advocate has informed him regarding this development. Meanwhile, DC Nakul said he has not yet received the Supreme Court order copy. Once he gets it, he will react on it, he added.