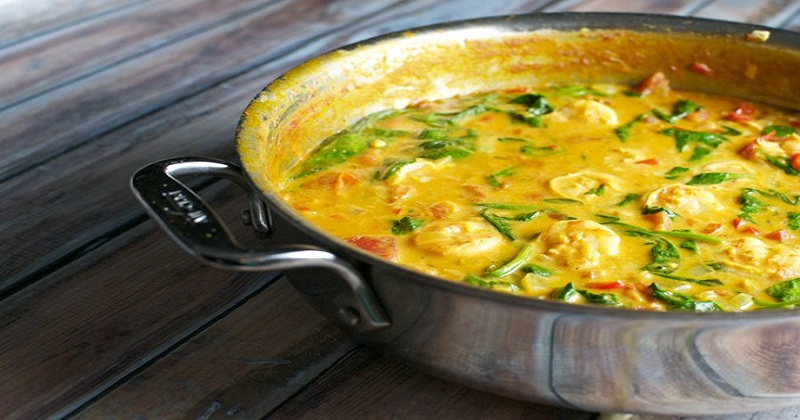 Ingredients
1 tsp. Tamarind paste
1 tsp. Turmeric
½ tsp. chilli powder
1 tbsp. Mango juice
½ tbsp. Coconut oil
1 tsp. Mustard Seeds
2 tsp. Cumin seeds
2 Garlic cloves, crushed
1 onion, sliced
1 tsp. prepared minced Ginger
3 ½ cups Coconut Milk
1 ¾ cups peeled, sliced and chopped Butternut squash
1 potato, peeled and chopped
1 red bell pepper, cored, seeded and chopped
1 parsnip, peeled and chopped
1 cup Cauliflower florets
To serve:
2 tbsp. chopped Cilantro
2 tbsp. sliced Almonds
How to Make Red Pepper and Coconut Curry
To make a spice paste, place the tamarind paste, powdered spices and mango juice in a food processor or small blender and blend together. Set aside.
Heat the oil in a saucepan, add the mustard seeds, and cumin seeds, and cook until the mustard seeds begin to pop.
Add the garlic, onion and ginger and cook for another 3-4 minutes until softened.
Add the spice paste and cook, stirring for 1 minute, then pour in the coconut milk and bring to a boil.
Add the vegetables, and simmer for 20-25 minutes.
Serve sprinkled with chopped cilantro and slivered almonds.