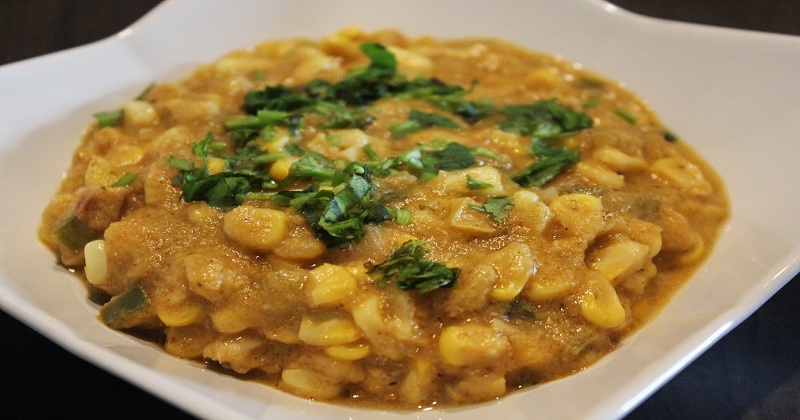 Corn Korma is a rich, flavourful curry that can be prepared in a easy manner with readily available ingredients at home. Usually, Indian korma (curry) varieties have great aromatic flavour and delectable taste and Corn Korma is not an exception. The authentic masala made with coconut, turmeric, garam masala, green chilli, fennel (saunf), cinnamon and cardamom is blended with the yummy boiled corn to achieve a super delicious curry.
Ingredients
3 cups Corn kernels
½ loaf bread
1 cup Curd
2 big Onions
Salt to taste
1 tsp. oil
Grind together:
¼ Coconut
1 big Onion
¼ tsp. Turmeric
½ tsp. Garam Masala
3 Green chillies
½ tsp. fennel (saunf)
1 Clove
½" Cinnamon
1 Cardamom
¼ bunch Coriander leaves
½ tbsp. Poppy Seeds
To garnish:
1 tbsp. Chopped Tomatoes and Mint
How to Make Corn Korma
Slice bread and cut into cubes and fry till golden. Chop onions, grind masala.
Heat oil, add chopped onions, fry well, add masala.
Add salt to taste. Add corn and give one boil. Add beaten curd, simmer for 5 minutes.
Lastly add bread cubes and remove from fire. Garnish and serve hot.