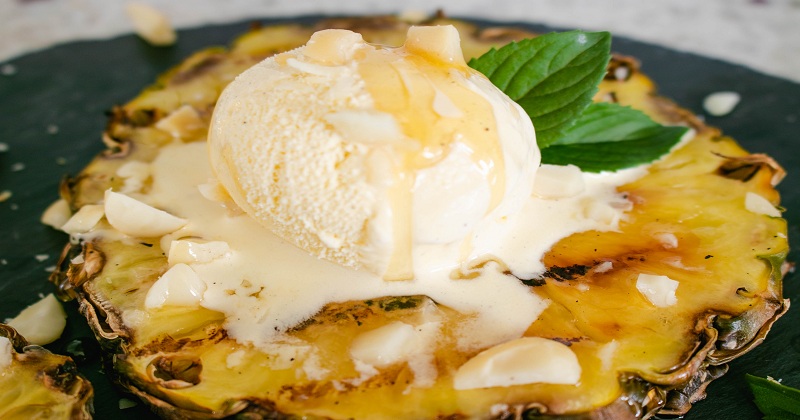 Nut and Pineapple Ice cream- A varied combination of yummy ingredients all packed together for a lavish feast.
Thick condensed milk, sugar, juicy pineapple, eggs, cashewnuts, melted chocolate, flavourful essence and few more ingredients are set beautifully as layers, tempting our taste buds to relish it right away.
Chill with a cup of this gorgeous ice cream that will make you feel heavenly on a tiring day!
Ingredients
½ pint condensed Milk
½ pint water
4 tsp. gelatin
50-75 gms. Sugar
2 tbsp. hot water
3 eggs
½ tin pinapple
50 gms. Cashewuts
20 gms. Chocolate, melted
½ tsp. Almond essence
2 tsp. vanilla essence
Green colouring
How to Make Nut and Pineapple Ice Cream
Dilute half pint condensed milk with water. Separate the eggs.
Whisk egg yolks, sugar and milk over a double boiler till thick.
Take off the fire. Dissolve gelatin in 2 tbsp. hot water and add to the mixture.
Whisk egg whites until very stiff and fold into the mixture. Divide mixture into 3 equal parts.
To one, add vanilla and leave to set in a glass dish. To the second, add almond essence, cashewnuts and colouring.
When first layer has set, pour the second portion over it and leave to set.
To the third portion, add the chocolate and pineapple pieces and pour over the second layer after it has set. Chill well.