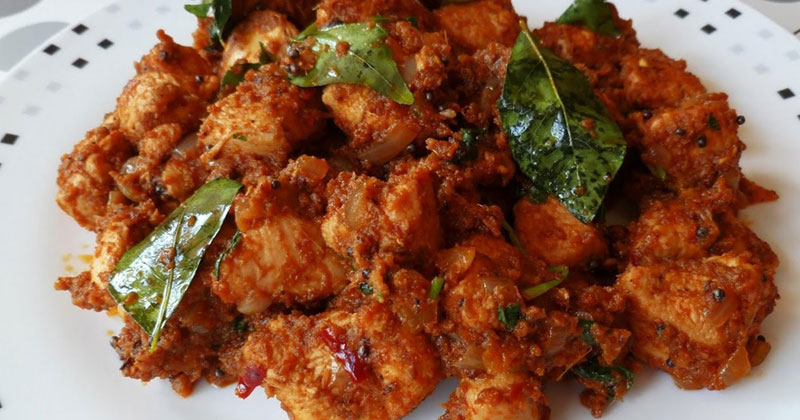 Ingredients Of Chicken Sukka
1 Kg Chicken (small pieces)
1 Onion (thin slices)
2 Cardamom
1 tsp Salt
2 Tbsp Oil
For Coconut masala:
2 Tbsp Coriander
1/4 tsp Cumin
1/4 tsp Mustard
1/2 tsp Pepper
4 Cloves
1 Pieces Cinnamon
10 Bedki chillies
6 Kashmiri chilies
1/4 tsp Turmeric
1 Onion
4-5 flakes Garlic
1 Small Ginger
1 tsp Salt
How to Make Chicken Sukka
1. Roast both Chilies in a pan & keep aside.
2. In the same pan roast, coriander, cumin, mustard, pepper, cloves, cinnamon, onion, ginger & garlic. Grind all the masala items together (fried stuff, salt, tamarind & turmeric) with little water to make a smooth coconut paste.
3. Now heat oil in a vessel and fry onions till golden brown.
4. Add Chicken, salt & Elachi to cook for 10 minutes.
5. Add ground masala and bring one boil. Add scrapped coconut and boil again.
6.Taste and check if you need to add more salt.
7. Serve hot. You may temper the dish with some amount of ghee.