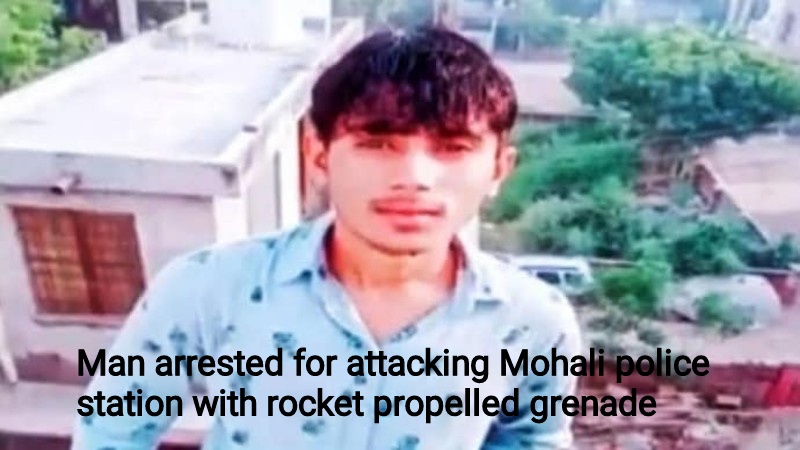 The man who detonated the rocket in the RPG attack on the Punjab Police Intelligence Headquarters in Mohali in May of last year has been arrested by the National Investigation Agency (NIA). Deepak Ranga, the suspect, was captured on Wednesday morning in Gorakhpur, Uttar Pradesh, after fleeing the scene of the attack.
On May 9, 2022, an RPG was fired at the Punjab Police's Intelligence Wing headquarters in Mohali, starting a blast that shattered windows and sent a section of the false ceiling crashing to the ground. There were no known casualties or injuries.
According to the NIA, Lakhbir Singh Sandhu aka Landa, a Canadian gangster turned terrorist, and Harvinder Singh Sandhu aka Rinda, a Pakistani gangster turned terrorist, are both close friends of Deepak Ranga, a resident of Surakpur village in Haryana's Jhajjar. Deepak has participated in a number of other terrorist and criminal offences, including violent killings, in addition to the May 2022 RPG attack. According to the NIA, Rinda and Landa had been providing him with financial and logistical support on a regular basis.
On September 20 of last year, the central investigation agency opened a suo motu case after it came to light that terrorist groups and foreign-based terrorist elements were collaborating with leaders and members of organised criminal gangs operating in India's northern states to carry out targeted killings and violent crimes.
It had also come to light that the terror-gangster-drug trafficking network was involved in smuggling IEDs, explosives, and ammunition across the border using a vast interstate network of gun runners, illegal arms and ammunition suppliers, and traffickers in explosives.
The NIA has detained 19 leaders/members of various organised criminal gangs, two arms suppliers, and a financier associated with the network since the filing of three criminal cases against the terror-gangster-drug smuggler network. These arrests were made in accordance with the Unlawful Activities Prevention Act.
Arsh Dalla, who resides in Canada, was already listed by the Ministry of Home Affairs on January 9 as a 'individual terrorist.' An NIA official stated that 'further action to destroy the terror-gangster-smuggler nexus and infrastructure would be intensified in the near future.'