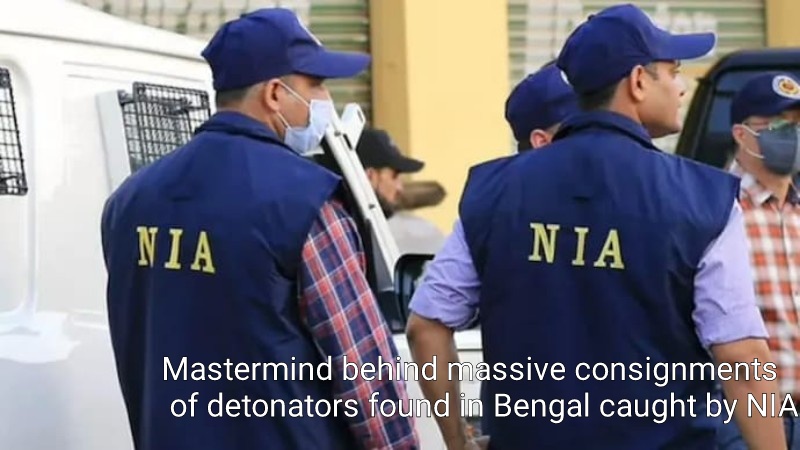 The National Investigating Agency (NIA) arrested a man who is accused of giving three individuals in West Bengal's Birbhum district an order of 81,000 detonators last year. After being caught red-handed by the Bengal Special Task Force (STF), he was on the run.
The NIA has made its first arrest since taking over the investigation from the Bengal STF.
In July 2022, the Bengal STF carried out a raid in Birbhum district's Mahammad Bazaar and stopped a pickup that was allegedly carrying 81,000 detonators. The Bengal STF allegedly prevented the three people from planning an explosion after they were caught red-handed.
After a significant amount of explosive materials were recovered, the Union Home Ministry instructed the NIA to begin an investigation.
The NIA focused its investigation on a man who they believed played a significant role in the explosives consignments found in the pick-up van.
The NIA located the man's mobile tower in Birbhum District, and using this information as a lead, a team went there and arrested Rintu Sheikh.
The NIA has sources who claim that Sheikh was the brains behind the explosion plan. According to a source at the NIA, 'Rintu Sheikh was the one who delivered the detonators to the three men but was on the run since their arrest. We have taken him in our custody. He needs to be interrogated thoroughly.'
Sheikh was presented on Tuesday before a special NIA court in Kolkata. Sheikh has been remanded in the custody of the NIA for 10 days, according to Debasish Mallick Chowdhury, the special public prosecutor for the NIA.