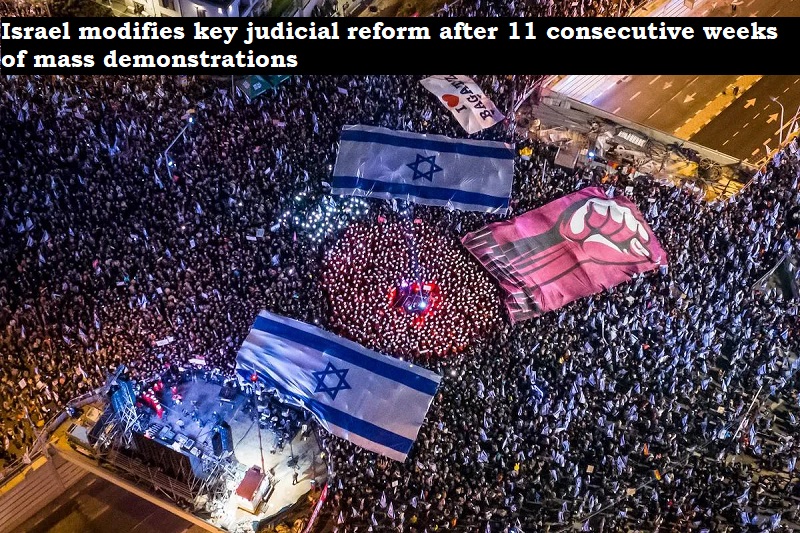 After 11 weeks of protests, the Israeli government has modified a key judicial reform that had sparked widespread outrage and opposition. The reform, which was initially proposed by Justice Minister Gideon Saar, sought to change the way judges are appointed and make it easier for political officials to influence the judiciary.
The proposed reform was met with criticism from opposition parties, legal experts, and civil society groups, who argued that it would undermine the independence and integrity of the judiciary and allow political interference in the legal system. The reform also sparked mass protests across the country, with tens of thousands of people taking to the streets to demand its withdrawal.
In response to the protests, the Israeli government announced that it would modify the reform to address some of the concerns raised by critics. The revised version of the reform includes a number of changes, such as the requirement for a broader range of candidates to be considered for judicial appointments and the establishment of a special commission to oversee the appointment process.
The modifications have been welcomed by opposition parties and civil society groups as a step in the right direction. However, some critics have argued that the changes do not go far enough and that the reform should be scrapped altogether.
Overall, the modification of the judicial reform in Israel highlights the importance of public pressure and civic engagement in holding governments accountable and promoting democratic values. The protests and opposition to the initial proposal demonstrate the power of collective action in shaping policy and promoting social justice.