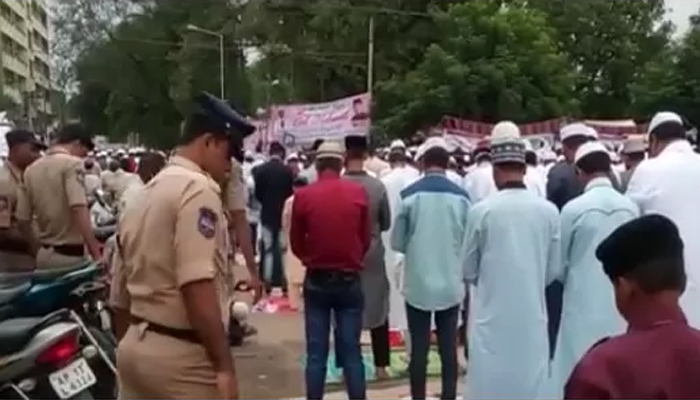 A simple gesture of setting right the mats of those offering prayers on Eid has brought appreciation for two constables as well as the Hyderabad city police. Citizens are in all praise for the constable duo who helped Muslims offering prayers at Eidgah Mir Alam.
The video posted on Hyderabad police Facebook page shows Venkatesh Naik and V Pratap Singh, both constables attached to the Kalapather police station, setting right cardboards used as makeshift mats of those offering prayers at the windy Eidgah. Strong winds were blowing the mats away as prayer was underway.
One of the policemen was seen setting up a mat in the right manner and used his police cap as a weight to keep it from flying away. Taking a cue, another constable set another mat right and used a bag nearby to keep it from flying. The video shot by an onlooker was shared with the Hyderabad police with a note.
"Police are down to earth to serve the nation without any religious feelings, this policemen in the video of Kalapathar police station have shown their respect to the prayer doing by our muslim brothers at edga tadban. It portrays Hyderabad Police's great gesture," a citizen's note said.
The video has been viewed 56,000 times and has been shared 997 times. More than 200 comments for the video are full of praises for the policemen who with their small gesture on Eid have won the hearts of people.