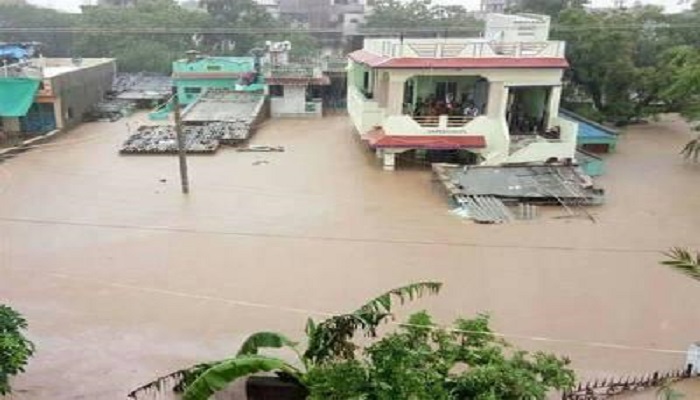 As many as 25,000 people were shifted, mostly in Banaskantha, as the district faced its worst floods in recent years on Monday.
Around 1,000 people stranded in floods were rescued from various villages with the help of Army, Air Force, Border Security Force and National Disaster Response Force that were rushed to the district.
Around 10,300 people were shifted in Banaskantha district while 9,790 were taken to safer locations in Patan. Some 2,800 were shifted in Ahmedabad as a precautionary measure.
The situation was particularly grim in Dhanera, Deesa and Tharad towns where rain waters flooded houses and drowned vehicles parked on the roads. Dhanera alone got 235 mm rainfall in just six hours. All gates of Dantiwada, Sukhbhadar and Sipu dams were opened after a massive influx of water.
Heavy rains in adjoining Rajasthan only worsened the situation in the region and water released from Dantiwada and Dharoi dams started inundating several villages in the region.
With more heavy rains forecast, six additional teams of NDRF were called in from Pune to augment the efforts of 14 teams that are already deployed across the state.
Two IAF helicopters were also pressed into service in Banaskantha to rescue stranded families. However, continuous rainfall and strong winds hampered the relief operations and one chopper carrying food packets and other material to Dhanera had to return to Deesa.