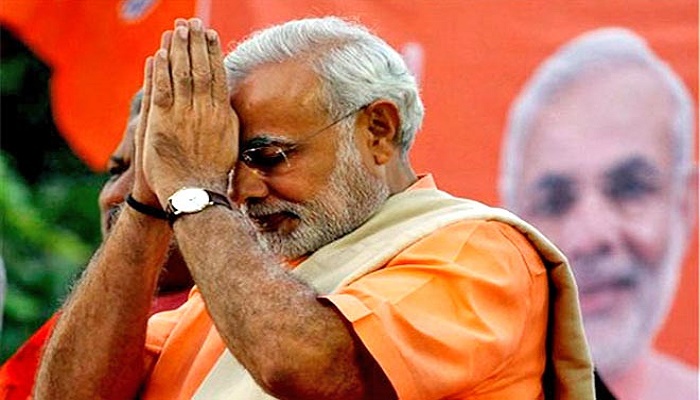 Today was a victorious day for the BJP in regards to the Gujarat-Himachal Pradesh elections, although the Congress did create a mark.
The BJP leaders on Monday said the outcome of the assembly polls in Gujarat and Himachal Pradesh is a vote for development and trust in Prime Minister Narendra Modi.
Echoing his party's mood, PM Modi flashed a victory sign after he arrived in Parliament here.
While senior Union ministers, including Rajnath Singh and Prakash Javadekar, said the polls trends reflect Modi's leadership, party leaders like Sakshi Maharaj attributed the outcome to the Prime Minister's "magic".
Minister Giriraj Singh termed the result Rahul Gandhi's first defeat as Congress president and asserted that his charisma did not work.
"This is a vote for development and trust for Narendra Modi," added Union minister Jitendra Singh.
Sakshi Maharaj said Rahul Gandhi "changes his color like a chameleon".
"That is why he was visiting temples in Gujarat. But even that failed. This is the magic of our Prime Minister Narendra Modi," he said.
Rajnath Singh asserted that the BJP will form a government in both states with a big majority.
"We will get a majority in both the states and form government," the Union home minister told reporters.
Asked if the results were an approval of the Modi government's policies, the former party president said, "Of course. It is an approval of the government."
His party colleague Prakash Javadekar echoed him.
"Development is the mantra of today's polity. And therefore people are with Modiji," the human resource development minister said.
"We have set a record in the history of the BJP by winning consecutive assembly polls… Anti-incumbency is not working there. The Prime Minister's popularity is intact. Amit Shah's strategy has worked," BJP vice-president Shyam Jaju said.
BJP general secretary Kailash Vijayvargiya seconded Jaju.
"There is nothing to worry. We will form a government in Gujarat with a comfortable majority," Vijayvargiya added.