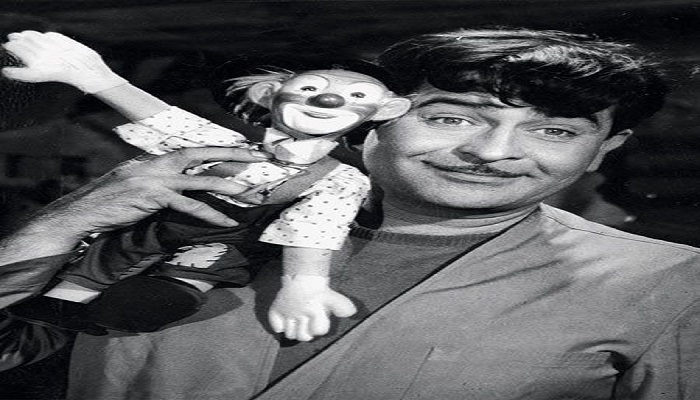 Around 27 years ago, if you had asked Ritu Nanda, daughter of the doyen of Hindi cinema Raj Kapoor, what her fondest memory of her father was, she would have said, "I didn't know him at all". That he was busy churning movie after movie when she was growing up, and her mother, Krishna, kept her away from the industry, meant that the two got little, if any time together. "If and when we communicated, it was through notes that I would place under his pillow before I went to sleep," Nanda tells us over the phone from Delhi.
That's how Kapoor first learnt that his daughter was keen on playing the piano. "I kept sending him notes asking when my piano would come. Then, one day, it arrived," the 69-year-old remembers. This relationship suffered more neglect, as Nanda, who married early at the age of 20, got busy with her own life and children Nikhil and Nitasha. 
But, somewhere in 1990, two years after Kapoor's demise, something unexpected fell into her lap, which changed her relationship with her father for good. "The then Soviet Union was honouring film personalities from around the world, to celebrate 100 years of cinema. Among the many names, including Ingrid Bergman, Charlie Chaplin and Jean Gabin, was Raj Kapoor. And, they wanted someone to write the book," says Nanda. While she didn't feel qualified for the task, the many people whom Nanda had approached, and who she believed, would have done a better job, either didn't find the book commercially viable or had prior commitments of their own. Despite suffering many an anxious moment, Nanda eventually wrote the book.
That would also set her off on a long journey into researching about and understanding her father. Her new book, Raj Kapoor: The One and Only Showman (HarperCollins India), which is a revised work of that original research, is what Nanda would like to describe as both an autobiography and biography on her father. "It is the most comprehensive study and insight into the life and career of Raj Kapoor. It's a tribute from his five children," she says. The book unfolds at two levels — the first includes an account of Kapoor's life, relayed by Nanda, in his voice. "In all fairness to him, his thoughts and words have neither been interpreted nor rewritten. They've just been compiled," she clarifies. Material for this was sourced from previous interviews and recordings, and books that have quoted him. This research, she says, has been ongoing for 27 years.
The second includes interesting vignettes of the actor from members of the family, including wife Krishna, his late brothers Shammi and Shashi, children, daughters-in-law and grandchildren, among others. For instance, Shashi Kapoor, the last of the legendary trio of brothers, who passed away earlier this month, recounts the time he was slapped by "Raj-ji", when he used foul language while talking to his mum, Ramsarni. "My brother had always lavished affection on me. Moreover, I had never been hit by either of my parents. I shut myself up in a room and howled. Raj-ji tried to console me, but when I wouldn't stop crying, he also burst into tears," Shashi recalled.
In the book, there is also a lot of ruing about Kapoor's life in his words. In one chapter, the veteran relays his wife Krishna's unwavering affection for him, despite his transgressions. "When I sit back at the end of the day, I feel very sorry for all the pain that I have given you. How can I bring those days back for you? But show business is such that a woman has to be understanding because there are constant emotional involvements, because the work is such. A lesser woman would have deserted me long ago. It is Krishna who has made my home," he says. There is also mention of his much talked about association with actor Nargis — a relationship that is said to have "borne all the strains of public and private life while it lasted".
On my first meeting with Nargis, at her Marine Drive flat, after ringing the doorbell, I stood there with bated breath. The door opened and what did I see? An angel standing before me. Woh kisi pari se kam nahin thi," the book cites Kapoor as saying, of what made him instantly sign her for his 1948 film Aag — the movie that introduced Indian cinema to its most enigmatic onscreen pair. "Nargis was my inspiration, meri sphoorti… You know, I cannot exactly explain my feelings towards her. No, it is not love, though I do like her very much. I think it is the feeling that one good artiste has towards another," the book cites Kapoor as saying. Nanda says, "My father had a lot of respect for Nargisji. They both made a glorious pair and were immensely talented. Papa was always very involved with the actress he worked with, because he believed that actors can be honed best by the director."
The book also celebrates Kapoor's life outside of the movies. His passion for cinema was matched only by his enthusiasm for cricket, and he was known to hold several fund-raising matches. Apart from that, Kapoor also loved farming. Raj Bagh, his farm in Pune, was where he intended to retire one day. What the book, however, did most was to bring Nanda closer to her father. "When I started out on the first book, I didn't know him. And, I had no business writing it. But, papa would always say that there is no such difficulty that cannot be conquered," she says, adding, "It's been an emotional journey for me, because even as I was researching this book, I realised how much he loved me." Here, Nanda remembers an incident during a family get-together, when Kapoor told his folks, 'One day you will all have a lot of respect for me'. "I understand that now more than ever," she ends.