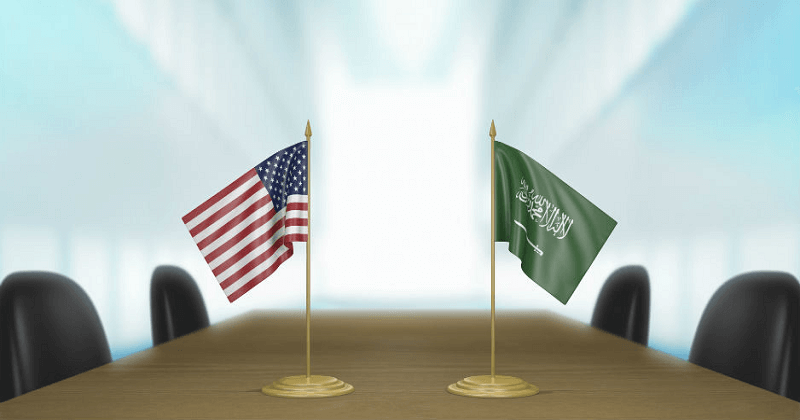 US President Donald Trump appreciated the close relationship with Saudi Arabia an Oval Office meeting visiting crown Prince Mohammad Bin Salman. Prince Mohammed expressed the united states and Saudi Arabia can do a lot of things for the better future.
Prince Mohammed praised "very deep" relations between the two countries during his meeting with Trump in the Oval Office. It's the first stop on a three-week tour of the United States by Prince Mohammad. Speaking in English, Prince Mohammad pointed out significant Saudi investments in the US. Trump said the US has "zero tolerance" for funding of terrorism. He said that Saudi Arabia is "working very hard" to cut off that funding.
Trump also said that Saudi Arabia has been a great intimation to the United States and is a "great purchaser" and "investor" in its economy. He said the relationship between the two nations was "strained" during former President Barack Obama's tenure but that he and the crown prince have become "very good friends in a short period of time."
Read More: Iran hit back Saudi Arabia-allegations
Beyond the Oval Office meeting with Trump, National Security Adviser H.R. McMaster, believed earlier this month to be possibly leaving the administration, will host a dinner for Prince Mohammad. The Saudi leader will also meet Defence Secretary Jim Mattis, Treasury Secretary Steve Mnuchin, Labour Secretary Wilbur Ross, House Speaker Paul Ryan and Central Intelligence Agency Director Mike Pompeo, Trump's pick to replace Tillerson. Which all about to establish a good and deep tie with united states that tie the knot deeper than ever.
"When we look at the challenges that we face, whether it's Iran, whether it's Syria, whether it's Yemen, whether it's the peace process, whether it's Libya, whether it's supporting Iraq, whether it's trying to stabilise Afghanistan, whether it's terrorism and extremism and terror financing, our interests are completely aligned and our vision for what we think needs to happen is virtually identical," Al Jubeir said.