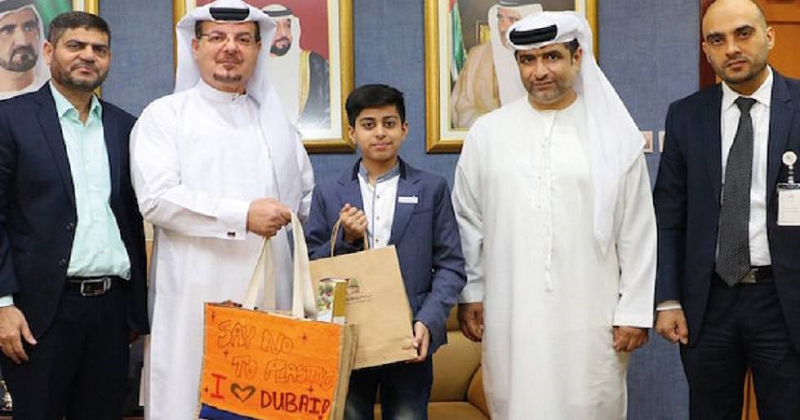 A 10-year-old Indian boy has been honoured in Dubai for providing plastic-free bags to a number of groceries to help decrease pollution and spread environmental awareness, according to a media report.
The Dubai Municipality honoured Faiz Mohammed and named the youngster one of the municipality's 'Sustainability Ambassadors', a source reported.
Using Dhiram 150 of his Eid money, Mohammed purchased around 130 reusable plain bags with the intention to distribute them among the groceries. Mohammed distributed hand-decorated reusable bags to a number of groceries near his home in Karama after he grew tired of seeing so many plastic bags being wasted on home deliveries, it said.
Read More: Another Video of Vinod Kambli & Wife Misbehaving with Ankit Tiwari's Family Goes Viral
His own investigation revealed that on an average, each small grocery was using about 1,200 bags a month to deliver goods. To solve the issue of the excess wastage, he provides the free tote bags in place of plastic ones.
"I was so proud and happy to see the story. If you keep doing what you're doing, we will see a big change. Going forward, I want you to keep in close contact with my team and give more ideas to help tackle waste here in the UAE," Saifaie told Mohammed. "The fact that this boy didn't use his Eid money to buy a ball, toy, or something for himself is commendable. He has a good hobby. If his family and community keep encouraging that, he will have a good future and so will the environment," he said.
Thanking the municipality for the opportunity, Mohammed said he felt honoured to be named the Sustainability Ambassador. "I feel so glad to be here. It gives me much encouragement to meet the director of waste management. He has been telling me to continue in my path to help curb waste. So I will keep urging friends, family and shop workers about the importance of using reusable bags in place of plastic ones."