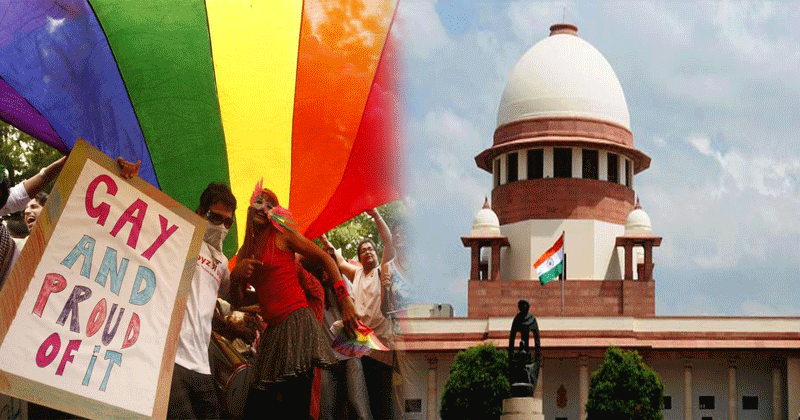 The Supreme Court judges get ready to hear the Section 377 Act today, where the rights and freedom of the homosexuals are questioned.
The legal arguments against Section 377 that will be heard by a constitution bench of the Supreme Court will quote from a range of references, including Hindu philosophy and past judgments of the Supreme Court itself.
The five-judge bench headed by Chief Justice of India Dipak Misra will hear petitions challenging Section 377 of the Indian Penal Code. The law criminalizes non-penile-vaginal intercourse, even between consenting adults. While everyone is covered under the law, the lesbian, gay, bisexual and transgender (LGBT) community are particularly affected.
The bench will hear six petitions and interventions filed by NGO Naz Foundation, parents of queer persons and Voices Against 377, a collective of human rights groups, among others. In all, 35 individuals have come before the court, which signals a growing confidence in the community to come out in the public eye and claim their sexual orientation and gender identity.
The petitions use previous Supreme Court verdicts, such as the 2014 National Legal Services Authority (Nalsa) versus Union of India judgment, which granted equal social and legal status to the transgender community, and the 2017 Justice K.S Puttaswamy (Retd) and Anr versus Union of India, which recognized the right to privacy as a fundamental right, stating that sexual orientation was an essential attribute of privacy. They also speak of the various kinds of discrimination, sexual violence, and distress that LGBTQ persons face on account of the law.
On Monday, the court also accepted an intervention application filed by Mumbai-based activist Harish Iyer, which uses references from the Bhagavad Gita, Vedic texts, even the Kama Sutra.
"The Kama Shastra acknowledges third-gender marriages wherein same-sex couples with great attachment and complete faith in one another get married," the application quotes from the Kama Sutra.
"I have filed this application as an individual who has been directly affected by Section 377. Over the past decade, I have faced prejudice," Iyer said.
The hearing will begin with Navtej Singh Johar versus Union of India, which was filed in 2016. The petitioners include Johar, a Sangeet Natak Akademi awardee, chef and restaurateur Ritu Dalmia, hotelier Aman Nath, co-founder of Neemrana properties, and journalist Sunil Mehra. The same year, three Bangalore-based transgender women activists, including Akkai Padmashali, filed two petitions arguing that the section was in violation of the Nalsa verdict.
"When you yourself file this petition, you're declaring yourself to be a criminal. It makes you vulnerable. But, I realized that if I didn't do something about it, then I had no right to complain about it," said Ritu Dalmia.
READ ALSO: Lesbian couple jumped to the river along with a three-year-old baby
In April 2018, Lucknow-based activist Arif Jafar filed a petition. Jafar was incarcerated for 47 days under Section 377 for distributing condoms as part of his outreach work to prevent the spread of HIV/Aids 17 years ago. The same month, four more gay activists associated with Mumbai-based organization Humsafar Trust, which works in the field of HIV/Aids prevention, filed a petition. In May, current and past students of the Indian Institute of Technology (IIT), filed a petition challenging the section on grounds that it violates Articles 14, 15, 16, 19, and 21 of the Constitution. These articles pertain to fundamental rights of equality, freedom of expression and personal liberty.
On April 27, 2018, Ashok Rao Kavi of Humsafar Trust also filed a petition against Section 377.
Their plea came just six days after hotelier Keshav Suri, filed a plea in this regard in the top court.
In response to Suri's plea, the apex court on April 23 sought the Centre's reply on the plea seeking scrapping of Section 377.
On Monday, Central government counsel R Bala Subramanium requested that the hearing is adjourned till the center could file a written response. Denying the request, the CJI said that the center could file its reply during the course of the hearing.
Since 2016, several LGBT petitioners have filed writs challenging the section. This has happened despite an adverse judgment by the Supreme Court of 2013, which reversed a 2009 judgment of the Delhi High Court that said that Section 377 was unconstitutional as it criminalized consenting same-sex desiring adults. A series of curative petitions challenging its 2013 judgment is also before the Supreme Court. Suresh Kumar Kaushal, a Delhi-based astrologer who had moved the Supreme Court against the Delhi HC verdict, said, "In 2018, our country's moral degradation is for everyone to see. Our society is weaker when compared to 2013 we need all these laws even more today." However, his lawyer confirmed that they have not impleaded themselves in the new petitions.
Earlier in 2009, the Delhi High Court had decriminalized Section 377, but the order was later set aside by a Supreme-Court bench.
Categorized as an unnatural offense, consensual sexual intercourse between persons of same-sex is termed 'against the order of nature' under Section 377 of the Indian Penal Code (IPC), and can be punishable by life imprisonment.