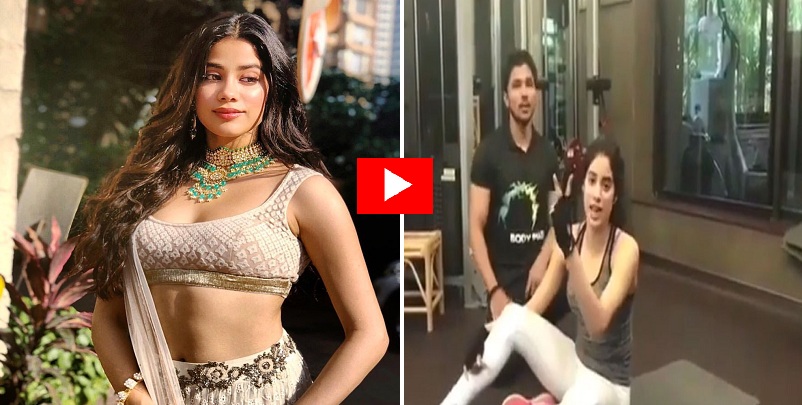 Actress Janhvi Kapoor, the elder daughter of late actress Sridevi and film producer Boney Kapoor, is making her Bollywood debut opposite Shahid Kapoor's half-brother Ishaan Khattar in Dhadak. But even before the release of her movie, beautiful Janhvi has gained immense love and popularity among the audience. J
anhvi's Dhadak is reportedly the Hindi remake of Marathi super hit film Sairat. Dhadak, produced by ace filmmaker Karan Johar and directed by Shashank Khaitan, is releasing on 20 July 2018.
Also See : On Katrina's Birthday, What does Ali Bhatt's Instagram Posts have to Say?
In fact, most of us know that both Janhvi and her sister Khushi are fitness freaks and are extremely health conscious. For that matter, the Dhadak actress is often photographed near the gym. Earlier, in a short, yet thrilling video shared on Instagram by Janhvi's fan club, the 21-year-old can be seen giving tips on how one can get six-pack abs in just five minutes as she does some post-workout fun with her gym trainer.
You can check out the video below!
It is said that Janhvi does not follow a strict diet plan, instead, she eats healthy and includes more fruits and vegetables in her eating plan. She avoids sugary products and junk food. She also begins her day with a few glasses of water.
Breakfast: 
Her breakfast consists of a glass of juice with some toast and egg whites. She also has cereals and milk.
Lunch: 
She generally has homemade food items and loves to eat brown rice, chicken sandwich, salad, legumes, etc. On a day when she's busy, she prefers fresh fruits or juices.
Dinner: 
She eats her dinner 3 hours before going to bed and tries to have a light dinner, which includes vegetable soups, dal or boiled veggies, green salad, and grilled fish.
Janhvi Kapoor's workout regime
To keep herself fit, she works out regularly. At the gym, she does cardio exercises and weightlifting. If she's not hitting the gym, she would go jogging, swimming, and jumping at home. Like many other celebs, it is learned that yoga is an important part of Janhvi's workout routine. The young diva loves performing one-hour of yoga thrice a week. Apart from providing a number of benefits to your body such as weight loss, increased flexibility, improved heart health, yoga helps manage stress and anxiety, keeps you calm and relaxed.
So, whether you want to have a fabulous body like Janhvi or want to lose a few pounds to look leaner and fitter, a regular workout regime coupled with a healthy diet can help you achieve your fitness goals as well as live a long, healthy, happy life.