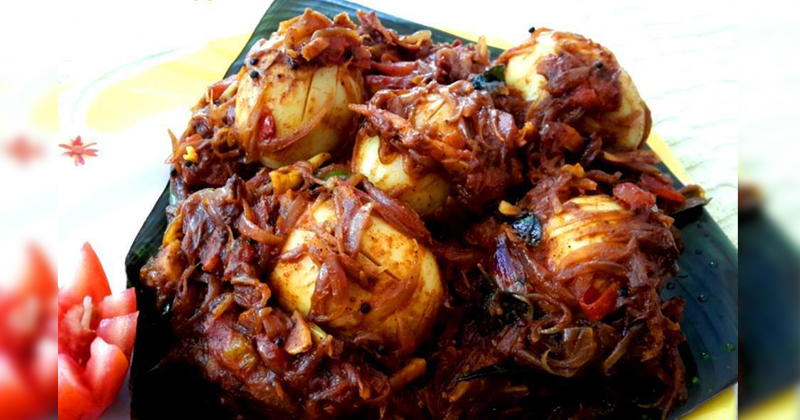 Ingredients
4 hard-boiled eggs
¼ cup chopped onions
1 ½ teaspoons ginger paste
1 ½ teaspoons garlic paste
¼ cup chopped tomato
½ teaspoon fennel seeds
1 teaspoon red chili powder
2 teaspoons coriander powder
1 teaspoon garam masala
¾ cup coconut milk
½ teaspoon turmeric powder
¾ cup water
2 tablespoons coconut oil
5-6 curry leaves
1 chopped green chili
1 teaspoon ghee
Salt to taste
Method
Heat oil in a pan.
Toss in the fennel seeds and curry leaves and cook for 20 seconds.
Add the chopped onions and cook till they become translucent.
Add chopped tomatoes and stir. Cover the pan. Keep stirring at intervals. Let it cook till the tomatoes soften.
Add ginger and garlic paste and cook for a minute.
Add the coriander powder, red chili powder, salt, and turmeric powder. Saute till the oil starts to leave the onion and tomato paste.
Add the chopped green chili and add water.
Let it come to a boil.
Add the boiled eggs.
Cover the pan and cook for 3 minutes.
Add the coconut milk, stir, and cover the lid. Cook for 2 minutes.
Remove from the flame and add a teaspoon of ghee.
Egg Curry is Ready!