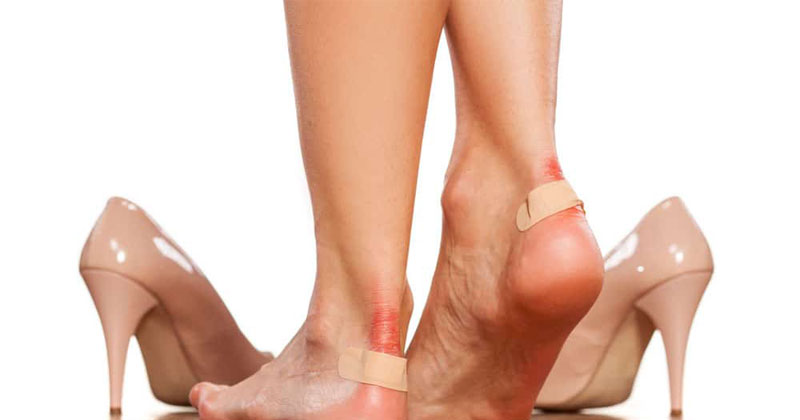 While you can certainly apply antiseptic cream or lotion on blisters and scars caused by a shoe bite, you also have the choice to go all natural and treat that nasty bite at home. Simply, resort to some of the below tried and tested home remedies to take care of the marks and pain that are the unwelcome banes of an ill fitting pair of shoes.
The easiest home remedy to get relief from a shoe bite is by using ice cubes. They offer instant relief to the feet and pain caused by a bad shoe bite. Drop a few cubes onto a clean cloth and rub it on affected spots. This not only soothes the pain, but will also reduce any swelling that may be caused by the bite.
Aloe Vera, known for its numerous healing properties, can be just the remedy you need to treat shoe bite marks and pain. You can apply aloe vera gel on the affected spots on the feet for instant relief from pain. Prolonged usage will also help reduce any scarring that the bite leaves behind.
Amazing as it may sound to some, applying aspirin can be helpful to treat shoe bite scars and blisters. It need not be eaten for this though. Its anti-inflammatory properties can bring down the swelling and inflammation caused by shoe bites, in a jiffy. Make a paste of aspirin tablet and water and apply it on affected spots. When it becomes dry, you can wash off the legs with water.
A mixture of olive and almond oil can be your friend in treating blisters caused by shoe bites. Massaging the feet with this mixture can bring instant relief.
Toothpaste off your sink top can do wonders in treating shoe bite induced pain and scars. It helps heal blisters as toothpaste has compounds like menthol, hydrogen peroxide and baking soda. Apply some white toothpaste on the blisters and leave for a few hours and wash with water. Steer clear from gel based toothpastes, as they may aggravate the condition.
Honey is used to treat myriad skin problems and it can be effective in treating shoe bite caused scars and spots. Dab the affected areas with raw and organic honey for immediate relief.
Rice flour is yet another common and effective way to get rid of pain and scar triggered by shoe bites. It is a nice exfoliating scrub as well. You can apply a paste made of rice flour and water on blisters and allow it to dry. Wash it with lukewarm water. Repeat twice a day to treat the scars left behind by a shoe bite.
Virgin coconut oil and camphor is another excellent shoe bites remedy to try out. Make a mixture of a few drops of coconut oil and a tablespoon of camphor. Dab it on scar spots and see the result!
A blend of neem and turmeric paste can be good to treat shoe bites. Both ingredients have antimicrobial and anti-inflammatory properties. Blend a few neem leaves in mixer with turmeric slices and water. Make a thick paste and ensure it is not granular. Then apply the smooth paste on the blisters and scars on your feet. Leave this paste on for some time and then wash with water. This can be done two times a day.